This is the time of year I spend hours and hours thumbing through the seed catalogs that come with regular frequency to my mail box. I love those seed catalogs. They allow me to escape this cold weather and bask in the sunlight of my garden, even if only in my mind.
In several of these catalogs I saw all sort of beans to grow bean sprouts, and several rather expensive contraptions to grow them in. I remembered that many years ago I raised Finches, and I used to sprout their bird seed as a special treat for them. And that got me thinking that I could sprout some of the beans from the bags of dried beans in my kitchen. My first thought was to use the same method I used for the bird seed – soaking the beans, and then spreading them on a damp paper towel, keeping it damp until the bean sprouted. I decided to google it and found that the single most popular way to sprout beans is also the most simple. I found several videos demonstrating the procedure, but Mountain Rose Herbs did a great job.
So Friday morning I put a few lentils in a mason jar, covered them with water, and let them soak for the day on the counter. Bernie made a cover for the jar out of a piece of window screen.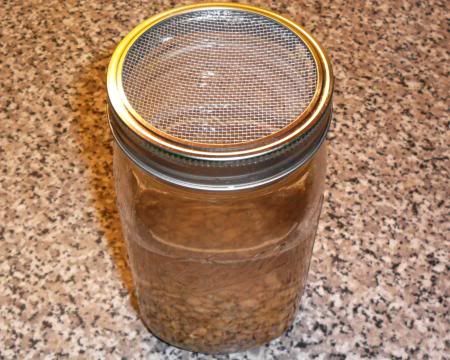 Friday night I turned the jar upside down and drained all the water through the screen. Then I filled it with water, swished it around, and emptied it – repeating this about three or four times. Then I drained it one last time, and set it in a bowl, screen side down.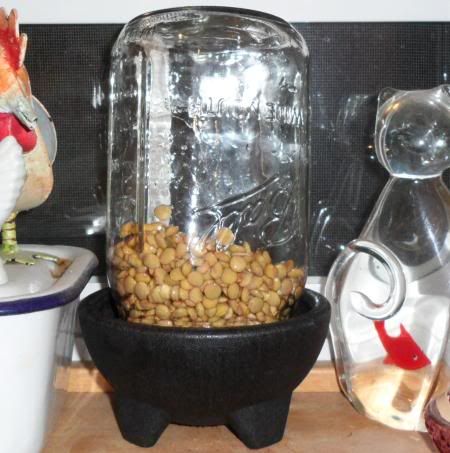 Saturday morning and evening, I rinsed and drained them a few times. And this morning, just two days after I started, I have sprouts!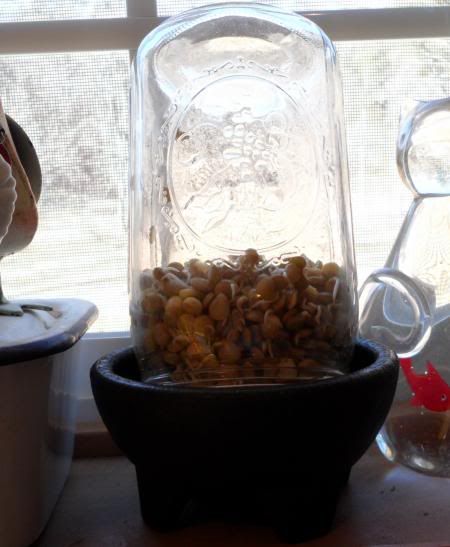 Within a few days the jar should be mostly filled with sprouts and I'll be adding them to my daily salads. I can't wait!
The turkeys started free ranging this week. They've decided they like to hang out with the chickens. It was a little touch and go at first – the roosters weren't very happy with the new visitors at first. But now everyone seems to be getting along, and the turkeys seem happy to spend the day with their chicken friends, and retire to the comfort of their quiet coop at night.
The turkeys are getting so big. Especially Jake.
I love his eyes.
And I love the bronze sheen on his feathers when the sun hits them.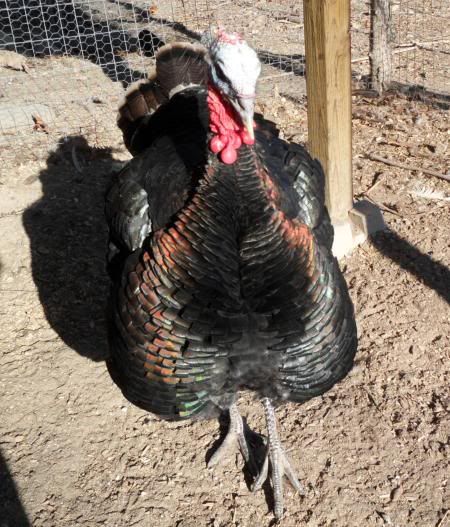 He really loves strutting his stuff.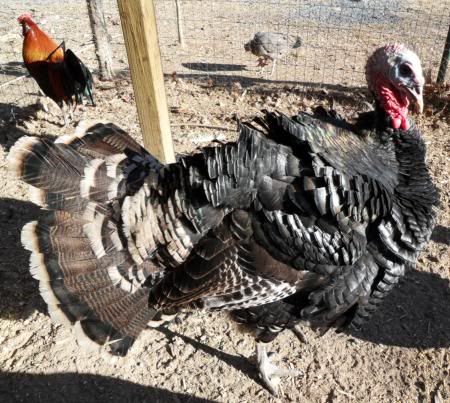 Sprouting and strutting. That's what we're doing here on the homestead.
Tags: sprouting lentil beans