Remember I told you bears took out our bird feeders about 9 years ago? Well, they surely did. And Bernie and I agreed that bird feeders are not a good idea out here.
But we had an especially brutal winter this year, so I decided since it had been a while since we'd had any bear issues, it was safe to put out our bird feeders once again.
I should have known better.
Sunday morning Bernie took the pups out to potty about 6AM. And when he came back inside he informed me a bear was interested in my bird feeders, too.
Apparently, he was especially interested in the fruit and nut mixture.
And especially liked the suet that was hanging from these mangled hooks – one of which we've yet to find.
It appears he decided to go over this chicken wire and flatten my poor Hosta and a few other plants to begin with.
And then we noticed this.
Those would be the chicken feeder and scratch scoop I keep in the cans in the chicken run.
And then we saw this.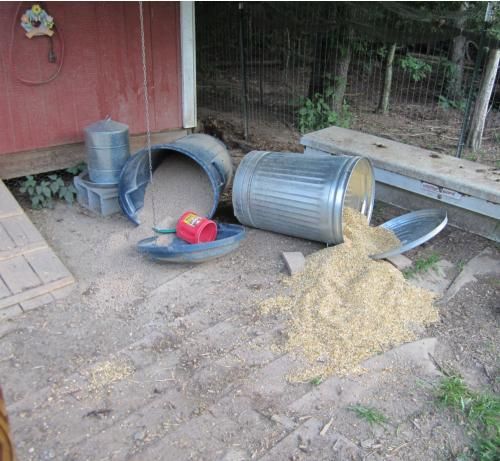 Sigh.
And that's not actually the worst part.
After assessing the bear damage, we went back to check on the goats. The baby goats are locked in their stall at night, but Mirrie is free to be inside the goat barn or roam.
She usually greets me in her paddock every morning,
But not this morning.
I called for her and there wasn't a peep out of her, or even the baby goats, who usually scream when they hear my voice.
It was dead silent.
We found Mirrie inside the goat barn, huddled in a corner, trembling from nose to tail.
Having recently lost Georgia, we were very concerned.
I was convinced she had a fever. So we called our vet to come out and check on her.
He was here in short order. She was still trembling. But she had no fever. And he found absolutely NOTHING wrong with her.
We suspect Mirrie saw the bear. We have no idea if or how they interacted, but there is almost no doubt her symptoms were bear related.
It took her a full 24 hours to start eating, drinking, and acting normally again.
And this is a sweet sight for me right now.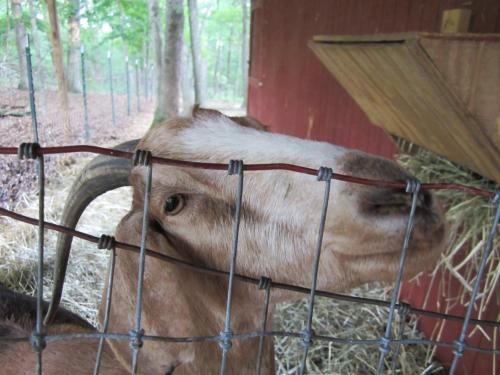 So is this.
The babies were locked up tight, but they were still very unsettled Sunday morning.
We have bears here. I know this. I've posted pictures of them in this very blog – while they were in this very yard. I had hoped with all the yard activity and bird feeders so close to the house, that it wouldn't be a bear issue.
But it was.
Lesson learned.
Take it from me.
If you have bears in your area, don't keep bird feeders out when the bears are likely to roam around. And tuck in tightly any other type of animal feed you have, and anything else that might attract bears.
I'll put my bird feeders out during the winter months, and be sure to take them in before the bears start stirring.
It's a hard lesson to learn.
Please do yourself a favor, and learn this one from me.
In spite of all the stress this bear brought to us, good things are happening around here…….
It wouldn't truly be spring here without baby chicks, right? And we've got seven of them right now!
This mama hatched out 3 babies yesterday.
And this mama hatched out 4 babies yesterday.
I have another hen on three eggs due to hatch in two weeks.
And I have a coop full of other broodies who are too mean for me to let hatch out chicks.
It's spring.
Critters are doing what critters do.
And I'm dealing with what critters do, and I'm loving it for the most part.
If I can just remember not to be stupid.