I have no complaints living 20 minutes from the closest incorporated town, but I will admit I sometimes miss the occasional take-out Chinese suppers. One Chinese dish I particularly crave from time to time is Hot and Sour Soup.
Not too long ago I ran across a crock pot recipe on A Year of Slow Cooking blog for a Hot and Sour Soup that I thought looked especially tasty. I didn't feel the need to let it cook for a few hours in the crock pot, so I modified it a bit and cooked it for about an hour on the stove top.
Not only is this a great soup, it's low calorie and healthy. And that's great, but sometimes it's nice to splurge a little – like on Won Ton strips. There is just nothing like those little Won Ton strips some Chinese restaurants include with Hot and Sour soup. Bernie found some in our grocery store and bought them but they were ridiculously expensive for that tiny little bag. So the next time I decided to make Hot and Sour soup, we just picked up some Won Ton wrappers and I made my own. And they tasted pretty good!
The Hot and Sour Soup recipe on the A Year of Low Cooking blog is a good one. I really like my Hot and Sour soup to be hot and sour! So I added a lot more red pepper flakes and vinegar. I also added some chili/garlic paste because I love chili/garlic paste. I omitted the water, and used more homemade chicken broth. I may have tweaked one or two other things. Below is my version is your taste buds are similar to mine:
Ingredients:
1 package of firm tofu – cubed
6 cups chicken broth
1 package of sliced mushrooms
1 can bamboo shoots – drained
1 can sliced water chestnuts -drained
2 tablespoons soy sauce
1 tablespoon sesame oil
3 tablespoons rice wine vinegar – and then 3 tablespoons more when soup is finished
2 tablespoons chili/garlic sauce
1 teaspoon red pepper flakes (less if you don't like your soup hot at all)
The Directions:
Mix all ingredients in a large soup pot.
Bring it to a boil, reduce heat, cover pot with lid, and let simmer for about 1 hour, or until mushrooms are very tender. When it is finished cooking, I stir in 3 more tablespoons of vinegar for a little more sour taste. Taste yours and see if you think it needs more vinegar.
While your soup is cooking, now is a good time to make those Won Ton strips. You're going to need a package of Won Ton Wrappers.
Cover the bottom of a pan with about 1 inch of oil, place it on a stove burner, and turn the heat up to medium high. While that is heating, pull out a stack of Won Ton wrappers and slice them – I don't know how wide I made the strips, but the stack looked like this when I finished: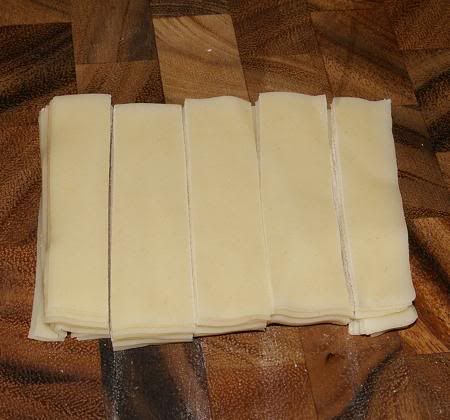 I only made enough for a couple of bowls and used about 12 wrappers for that. If you are making enough for several bowls of soup, you'll need to use more wrappers.
While the oil is heating, go ahead and separate all the strips from each other. I just put them in a pile when I separated them and didn't worry with laying each strip out nicely or anything.
Now that the oil is hot, take a handful of the Won Ton strips and put them in the oil. It only takes a few seconds for them to brown and bubble up a bit. Then you'll want to flip them over for a few seconds to brown the other side. Then remove them and put them on a paper towel to drain. Mine got a bit more done than I would have liked from just the few extra seconds I took to get a picture.
I suppose you can salt these as you remove them from the oil, but I didn't use any additional salt on them.
Once your soup is finished, just sprinkle a few Won Ton strips on top and voila! A truly delicious Hot and Sour Soup with crunchy Won Ton strips!
Yep. You can live in the middle of no where and not miss a thing. Seriously. As long as there is a grocery store you can visit once a week or so……