Look at all these pretty May Apples.
I didn't know much about May Apples but my walking partner, Mary Ann, informed me that they are extremely poisonous. I did a little research on them, and poisonous is apparently THE word for May Apples.
The roots are poisonous. Apparently, American Indians used the roots medicinally, but every thing I read on the subject came with a strong warning to ONLY try using the roots if you are a trained herbalist.
The leaves are poisonous.
The stem is poisonous.
Even the pretty flowers hiding underneath are poisonous.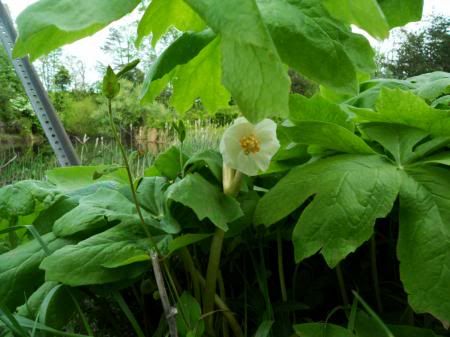 But that pretty flower? It will become the fruit of this plant – the "apple".
Oh, and that fruit? It's poisonous. Well, for a good long while it's poisonous. From all accounts, when it is extremely ripe, almost to the point of looking rotted, the flesh of that apple is no longer poisonous. The skin and the seeds are, but the flesh is not.
Every description I've read of the taste of that flesh said it tastes "tropical". Many described the taste as a cross between a pineapple, mango, and passion fruit.
How wonderfully delicious does that sound??? Some people even make jam out of the fruit.
I am completely obsessed with tasting a ripened May Apple. Bernie is not at all tempted to taste this fruit, and he's not at all happy that I would like to. In fact, he's pretty much insisting that I not taste it.
What do you think? Would you taste it?
Maybe you could think about it a couple of minutes while I tell you about the new hay rack Bernie made me for the goats…….
When we first got goats I struggled with how to make a hay rack for them. Everyone I talked to told me not to over think it, and just use some fencing. So that's what I did. And it worked pretty well. Except……..
The goats climbed up on it, pulled hay out of the top of it, and flattened the front. Not only did they waste hay like crazy, they smooshed it to the point of being almost useless.
This annoyed me no end. So, I came up with some requirements, and Bernie built a new hay rack.
And now it annoys the goats no end that they can't yank hay out of the top to waste, or smoosh the front of it any more. They can't even climb on it.
And I could not be happier.