Yesterday was a beautiful day on the homestead and we celebrated it by doing absolutely nothing more than enjoying the sunshine and mild temperature.
I take the dogs with me when I walk down to get mail each day, and although it is only 1/4 mile to our mailbox, the pups always manage to take me on an adventure before we get there.
Diesel likes to stop and smell the flowers along the way.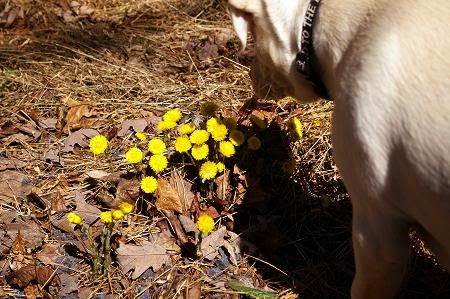 Our walk involves very little of the driveway. We need to do a bit of exploring through the woods. Look what we found off the beaten path.
It's in the upper left, hanging from that skinny little branch. Last year's home to a bunch of wasps. (Correction: My father informs me, and rightly so, that this is actually a hornet nest, not a wasp nest) We're glad we didn't run into that LAST year!
And what's this?
Heaven only knows how long that has been propped against the tree. The cedar has actually split, and grown around the top of it.
The first recording of this property was in 1904. Some of the descendants of the first owners still live in this area and we've met a couple of them. They tell us this land was home to a lot of livestock at one time, which we can tell by all the fencing we've found throughout the property. It was farmed as well. The old timey way. Any ideas what that piece of equipment is? Some sort of hitch for a horse or two, I suspect. I'd love to remove it and display it somehow, but the wood pieces in it are very rotten, and it is securely wrapped in that tree right now.
But no time to dwell on that. The next stop is the cabin. There's always something to sniff up at the cabin, and the yard is wide open and the perfect place to soak in some rays.
And now it's time for our favorite part of the mail fetching extravaganza. The creek!
After a good rain, the creek is filled with running water. It's not very full right now, but there's still enough water to make a splash.
Dolly loves splashing.
Diesel ….. not so much.
But he is a genuine boy, and just loves being muddy.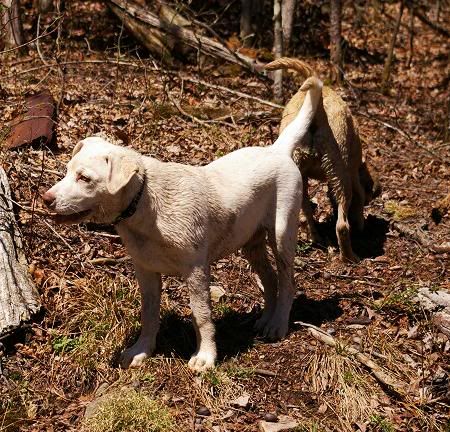 And he loves to bark. Especially when Dolly insists on jumping at him.
And as the mail fetching draws to an end, we need to stop for a little rest sometimes.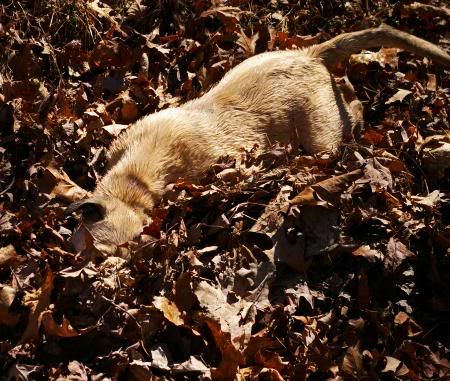 And we all go home, content that a little of the property has been sniffed up and explored, and the puppies have gotten a good mud bath.
As beautiful as the day was, the poor chickens could only enjoy it from their chicken run. They spent the day penned up, safe from the raptors that are craving an easy chicken meal. That did not prevent a chicken hawk from stopping by to torment them through the run fencing, though. Poor babies. They'll be penned up again today. We're all hoping the hawks find an easier meal and move on. I'm not sure how long I can keep my chickens penned. They complain loudly. I'm resigned to accept the fact that I will lose a couple of chickens to predators – but I am NOT resigned to losing the entire flock. The frequency of the hawks' visits really worries me right now.
Bee Free,
Penny