If you've read this blog for any time at all, you know that I am totally in love with my chickens. They are incredibly entertaining and each has a personality of its own. I love watching my chickens and how they interact. And just when I think I have them figured out, I get thrown a curve ball or two.
In the past few weeks I've watched something happen within my flock that I never would have believed if I had not seen it with my own eyes. Duke has relinquished his position as alpha rooster of the flock. Bobby Lee has now taken on that role, and I must tell you I am as heartbroken as I am shocked. Duke has always been such a strong rooster and a fierce protector of his flock. He and I have gone rounds more than once, but I learned to deal with him and accepted his "cockiness" because he has always been so good to the flock and he did such a wonderful job of keeping them all in line and safe.
When there is more than one rooster in a flock, it is common for the role of alpha rooster to be passed on to the next in line as time goes on. This can occur because the alpha rooster is too old, ill, or just plain tired of the responsibility.
Duke is not too old. He is just over a year old. And he's not really ill. He seems to be fairly healthy. Although I do know that he is quite large and has always wheezed while getting across the yard. Perhaps he just felt he no longer had it in him to be an adequate guard of the flock. Or maybe he just grew weary of the responsibility. I guess I'll never know. What I do know is that he has relinquished his role as alpha rooster to Bobby Lee.
Duke doesn't really seem too bothered by this event. He still has his favorite girls that hang out with him and he still sleeps on his same spot on the roost. But he now runs from Bobby Lee, who jumps on Duke when he attempts to breed. And Duke is now the last one in the coop at night, and does not go into the run in the evening until Bobby Lee has gone to roost. As much as Duke seems to accept this, I am having a hard time with it. I do not intervene, and I've let nature take it's course, but it still breaks my heart. I hope Bobby Lee will live up to the title of "alpha rooster". I think he has some big shoes to fill. Duke does have five toes, after all!
A couple of weeks ago we had a particularly nice day and opened all the windows to let the nice weather into the house. We were sitting in the living room when we heard a quite unusual crow. With four roosters now crowing, and two of them being only three months old, we occasionally hear some odd noises coming from the roosters.
"That must be Jethro or Pico" I commented to Bernie. He looked out the window and said "Uh, no. It's one of your White Faced Black Spanish Hens. I just saw her. She's crowing like crazy."
I jumped up and looked out the window, and even though I did see a Black Spanish right outside the window, I also saw Pico. I was convinced Pico was the one that was crowing.
I've heard that hens will indeed crow, but it is usually in the absence of a rooster. I have four roosters, so I simply found it impossible to believe I had a hen crowing.
Well, see this girl here?
Yesterday we were outside painting the frame of my new outside sink when we, once again, heard that odd crow. I stepped around the garden shed and looked into the chicken yard just in time to catch that little Black Spanish hen crowing! And she did it several times. This sweet little girl
is crowing, for heaven's sake! I feel fairly certain this event has something to do with Duke stepping down as alpha rooster and the disruption in the pecking order of the flock. Bernie now tells me he is positive he's seen one of my Phoenix hens attempting to crow as well. Good grief. This flock has gone insane.
Speaking of the outside sink Bernie and Daddy made for me, we finished painting it. Ignore the fact that my garden shed is NOT painted, and just admire the beauty of this outside sink:
Lordy, I do love that sink.
J.P. commented on the last blog post that a broody Hamburg is rather uncommon, and requested pictures. So, just for J.P. here's my broody Hamburg:
This happens to be the very same Hamburg that the chicken hawk attacked earlier this year. Fortunately Bernie and I saw it happening and managed to scare the hawk off before he killed her. She's still growing feathers on her lower back area.
Here's the broody Phoenix that is in the nest box next to the Hamburg:
You can tell by her chicken saddle, bald head, and the bare marks on her wings that she is one of the roosters' favorites. Her chicken saddle has a picture of Piglet (from Winnie the Pooh) on it, so Bernie calls her Piglet. She's a sweet girl and follows Bernie all over the yard, when she's not broody.
These two broodies are penned in nest boxes because my two brooder pens have the two broodies in them that hatched out the 9 babies a little over a week ago. They'll be going out of the brooder in about another week, which is just about the time the two newer broodies are due to hatch out their eggs – and then they'll move into the brooders. This is what I rigged up to close off the nest boxes that have the two broodies in them: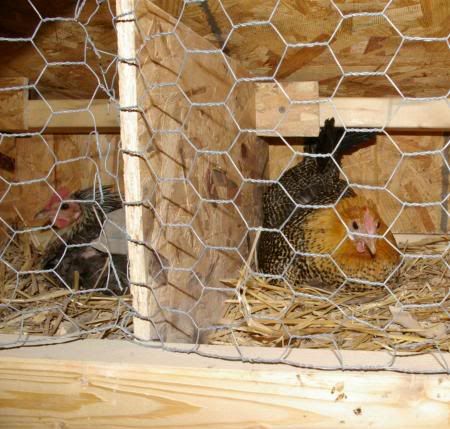 I stapled chicken wire to one side of each box, and then just hooked the other side of it to the opposite nest box wall. It works just fine, and the girls seem to enjoy not being harassed all day by the other hens wanting those nest boxes. Once every day or two, I make sure to remove them from their nests so they can eat and drink. None of my broodies has ever been good about leaving the nest once they start setting.
These chickens like to keep things interesting on the homestead. I think they worry I might get bored with them. They leave little chance for that.
Bee Free,
Penny