I've been woefully remiss in my blog posting. The past couple of months have been filled with lots of good things, and a few not so good things.
I'm gonna start with one of the not so good things.
We lost Duke about the time I stopped blogging. It was truly a difficult time for me. He had been sick for quite a while and, in all honesty, we should have probably put him down long ago. He had a good life, and he was quite the rooster – big, handsome, and a fierce protector of his flock. I have never heard of another rooster that would chase chicken hawks, let alone attack them and, on one occasion, pin them to the ground. Duke will always hold a very special place in my heart.
A good thing that happened is that my hens finally started going broody for me, and we ended up with one that hatched out five chicks:
And one that hatched out four:
Unfortunately, a predator killed both of the mama hens within two days. The four chicks were two weeks old at the time, and the five chicks were three weeks old. That same week, something got our big rooster, Pico. It was a stressful and sad week to say the least. After finding Pico's feathers scattered across the yard, I decided to put the chickens on lock down for a few days.
I am fairly certain we had a fox that was picking off our chickens. We had seen a fox chasing a hen in the yard several weeks ago. Bernie scared it off, and it stayed gone a while. But I suspect it started coming back after these chickens.
After a couple days of lock down for the chickens, they were cut loose to resume free ranging. And we haven't lost another one. Maybe the fox found an easier meal. I certainly hope so.
Since the loss of two roosters, I'm down to Bobby Lee and Floyd. As sad as I was to lose Duke and Pico, Bobby Lee actually seems quite happy.
He's such a handsome boy. Floyd is too – but I didn't get a good picture of him.
In mid-June Bernie's mama and sister came to visit for a week. That was definitely a high light of our summer. We had a wonderful visit and were tickled to learn they will be back the end of August – with Bernie's daddy and Julie's boyfriend in tow!
Bernie's mama, Kathy, is one of my favorite people, and she's always a hoot. She and Bernie are very close, and it always warms my heart to watch the affection between them.
Bernie's sister, Julie, is such a good friend to me and I just adore her. So does Dolly.
It was sad to see them go. But knowing that they will be back in short order definitely helped saying "goodbye" just a little easier this time.
So far I feel like this has been a good news/bad news kind of post! And I guess it really has. The next news I have to share with you is definitely a mix of both.
We no longer have the turkeys.
I have very mixed feelings about this.
It makes me sad because I really love Jake, Tanya, Sara, and Turklet2. I miss them a lot. But, on the other hand, it made me sad to see them penned. They were used to free ranging and penning them was difficult on them. So…….. when we learned that Gail, the owner of Deauville Farms, had re-homed all the Fallow Deer she had raised for years, we approached her about taking all four of our turkeys. Gail has many chickens, and she now has a huge pasture that she plans to free range them in. The pasture has 6 foot fencing, with electric wire at the top. Talk about a safe, fun place for turkeys to hang out! We were tickled when Gale said she would be happy to add four turkeys to her menagerie.
That made me very happy. And a little sad. But mostly happy.
So, just yesterday, we loaded up the turkeys and took them to their new home. We also supplied Gail with the turkeys' favorite treat – Animal Crackers. As it turns out, Animal Crackers are a nice way to introduce yourself to turkeys.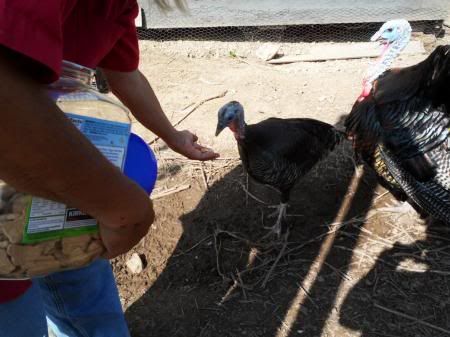 In the below picture you can get an idea of the huge pasture the turkeys will be roaming in. They'll stay fenced in the smaller yard for a couple of days until they are sure where "home" is, but soon they'll be out free ranging again.
And the old turkey coop in our back yard? That's gonna get cleaned up good and turned into a place to store all my canning stuff. And the lean-to on the side of it? That's gonna get turned into a screened in canning room. I'll be sure to let y'all know how all that progresses…….
The rest of us are doing just fine.
Elvis still has a drinking problem.
Priscilla enjoys a nip every now and again.
Diesel enjoys surrounding himself with his favorite toys when he naps.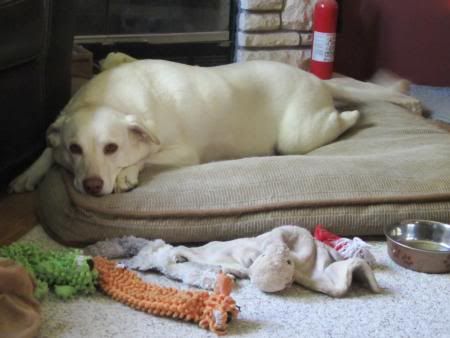 And Dolly enjoys laying around looking pretty.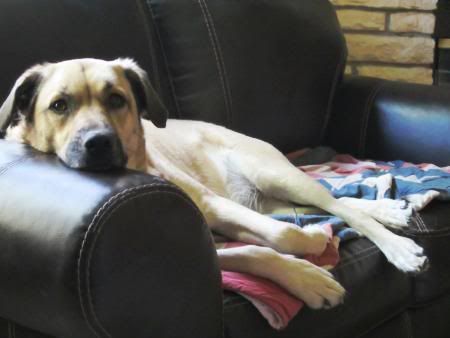 The chickens enjoy pecking at my painted toenails.
Say what??????????
And the goat babies enjoy begging for some Animal Crackers.
We've gotten some lard rendered.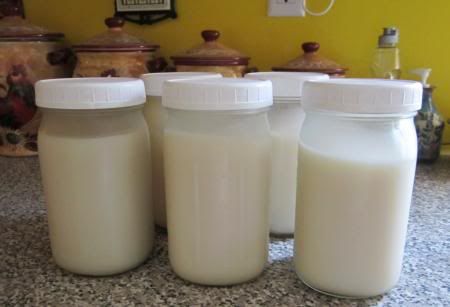 And some honey extracted.
Pickle canning season has come in with a vengeance – and I finally got to start using the Tattler lids I purchased at a ridiculously low price last year. I LOVE them, by the way.
And, thanks to my sister-in-law Julie, I've picked up crocheting again and made several of these cute little pot holders.
And, now that I've got you caught up, maybe I'll get back to posting weekly.
What the heck have you been doing this summer?