I really, really wanted a water fountain for our deck. I wanted to relax on the deck and hear the trickle of water. I'm not sure when I became obsessed with this, but obsessed I became. I wanted a water fountain dammit! But everything I looked at didn't exactly fit what I had in mind.
So I decided we would just make a water fountain all by ourselves.
I told Bernie my plan and he said "Just tell me what you need me to do."
Bernie is all manner of awesome like that.
So, that's what I did. I told him my simple plan and, although I believe he was unimpressed with the whole water fountain idea, he agreed it was doable.
Here was my idea…….a 28 gallon galvanized wash tub, the old hand water pump daddy gave us about 25 years ago, a platform for the hand pump to sit on, a small water pump, and some water. And with those requirements, we set to work.
A couple of hours later, I had a Redneck Water Fountain!
It surpasses all I had hoped for.
And it drowns out the sound of little baby goats crying "MOMMMMMMMMMMMMMMY" every time I step out on the deck 🙂 Although that's another sound that actually never gets old………..
And speaking of baby goats, I've got pictures for ya……but first, look at this pretty Indigo Bunting that showed up at my bird feeders.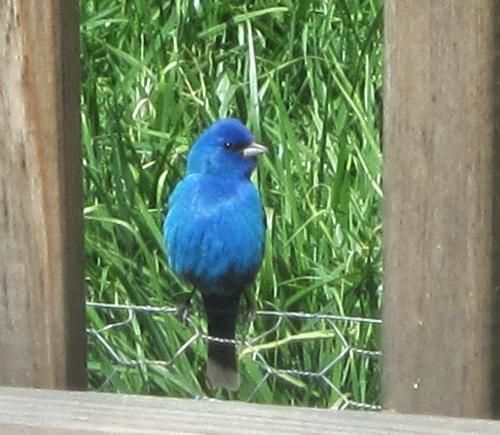 He apparently told his friends, and we have several that show up each day now. They are beauties and tickle me no end.
Speaking of beauties that tickle me……
There are two food buckets there……but they prefer fighting over them one at a time……
They really enjoy playing on this old log.
And this spool.
Precious Anna Mae.
Sweet, sweet Gloria.
Oh, and you may be wondering where Mirrie is?
She's busy being a poop.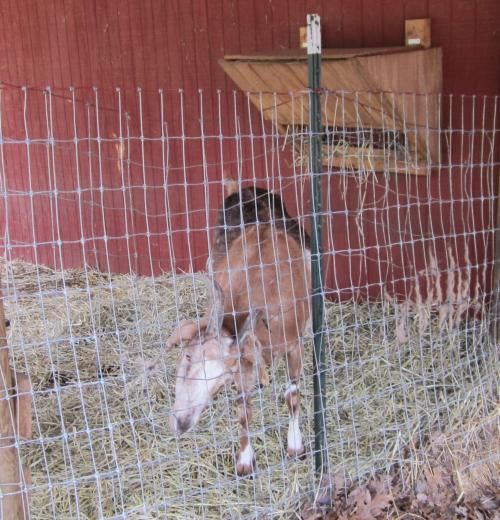 She's decided she isn't happy about not being the only baby. She's a snot to Gloria and Anna May.
So Gloria and Anna May have their own paddock. And their own place in the barn.
I hope Mirrie will come around. But if not, we've got a workable solution.
And I've got three babies out there.
Don't tell Mirrie though………..