You may recall that we put together our rain barrel in July of 2008 and added a pump and sink in June of 2009. I LOVE that rain barrel. The pump allows me to water the garden and the greenhouse plants uphill from where the rain barrel resides. It does a wonderful job.
Even though the barrel holds 305 gallons, it was quickly filled with our very wet spring last year. 305 gallons weighs in at approximately 2400 pounds – something we didn't consider when we built the original platform. As a result, the barrel collapsed on one side.
It still worked just fine, but it really bothered Bernie. So we disconnected the barrel from the down spouts, and because it's been so dry for so long, I managed to drain the barrel the past week. Bernie and I decided to work on a new platform for it today. This is the barrel upside down – you can see the area that collapsed pretty clearly.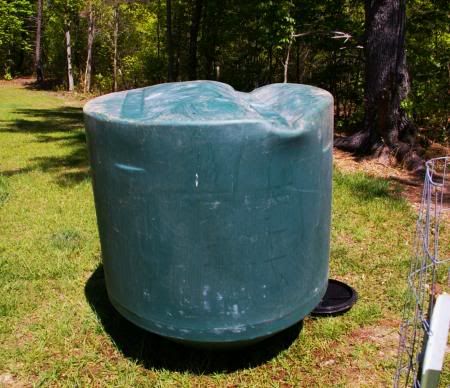 Mirrie and Georgia came out to help for a while – not with the rain barrel platform, but with clearing some undergrowth next to the woods.
Bernie laid out cinder blocks for the foundation, and then he laid down some 4X4s.
He put some OSB on top of the 4X4s and nailed them in place.
After sitting in the sun, the barrel became a little more pliable, and we were able to push out the area that was collapsed. Then we used the power washer to clean the inside of the barrel.
We put it up on the platform, but didn't completely hook it back up. We are leaving it open to air out completely. We'll finish it up in the next few days.
Even though I was fine with it as it was before, I'm really much happier with the rain barrel now. It sits up higher so i can easily fit watering cans under the spigot if I need to.
Now all we need is a little rain………