If you've spent any time at all on the Backyard Chickens forums, or any other number of chicken forums, you've undoubtedly heard that pumpkin seeds are a natural dewormer. I've done a lot of reading on this subject, and although I've never found anything that proves this conclusively, I will tell you that I've learned pumpkin seeds have been used for hundreds of years a natural dewormer for all types of pets and livestock. From dogs to horses, and even for humans. And with interest in natural products rising, there are even research grants available concerning the use of pumpkin seeds as a dewormer.
Pumpkin seeds contain an amino acid known as cucurbitin. Cucurbitin is inside the seed, and it paralyzes tapeworms and roundworms, and aids in eliminating them from the body. Some believe it takes very large quantities of pumpkin seeds to work effectively, and some do not believe it works at all,
Whether you believe in using pumpkin seeds as a dewormer for your chickens or not, one thing is for certain – they won't hurt your chickens, and your chickens will probably love eating them! If you want to use the seeds as a dewormer, remember that the cucurbitin is inside the seed, and chickens can't chew. You'll want to make sure you chop the seeds a bit in a food processor, or blender, to expose the pulp of the seeds.
My chickens love a little pumpkin seed smoothie in the fall. I cut pumpkins in half, remove the seeds and put them in a food processor, along with a little buttermilk, milk, or plain yogurt, and whirl it all around until the seeds are a little chopped. Then I use the pumpkin halves as bowls, and pour a little of the smoothy in each of them.
Lordy, they do love a little pumpkin smoothie in the morning.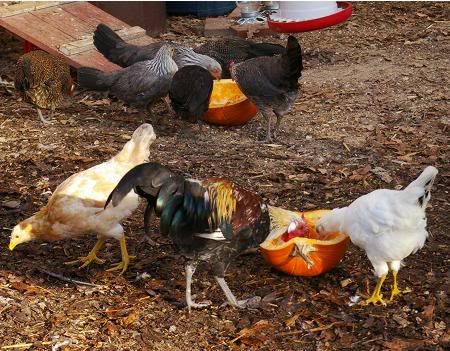 And when all that delicious smoothie is finished? They eat the bowl!
Remember those eggs I got from a neighbor and let my hens hatch out the end of August? Well, they are about 2 1/2 months old now and I still have no clue what breed they are. I'm certain they are mixed, but I'm just not sure what they are a mix of! And three of the six are HUGE. They also have well defined combs and waddles. I worry they are cockerels. With my original flock, I can typically sex them within 3 – 4 weeks. And some of the pullets, like the White Faced Black Spanish, do have large combs and waddles relatively early. But these three have me a little concerned. Take a look at the two large white ones in these pictures, and keep in mind they are only about 2 1/2 months old: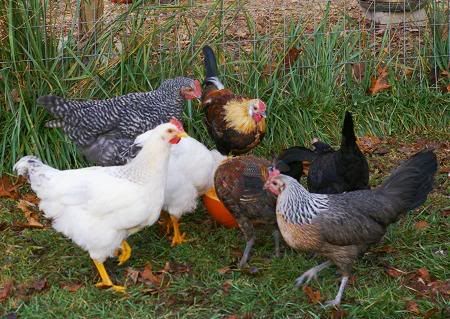 What do you think?
I'm certain this one's mother is the only Barred Rock my neighbor has, and I have no idea about the father:
Cockerel or Pullet? I think they are some pretty chickens and I am just praying they are pullets. They're friendly little things. So are the other three. The other three are smaller and I am 99.99% certain they are pullets. But these three……..
OK, the chickens have enjoyed their morning smoothie and I've got to get busy around here. No rest for the weary on this homestead.
Tags: pumpkin seed dewormer