I took a day of vacation so that I could have a long weekend, and Bernie and I could finish up the greenhouse. But Mother Nature had other plans for the day.
It seems our weather forecast changed a little yesterday, and I apparently missed the memo on it. The tarp covered lump above the well pump is the greenhouse pieces we assembled last weekend. *sigh*
So we do what we always do when Plan A just doesn't quite pan out. We came up with Plan B. And rather than working on the greenhouse, we'll be working inside the house. It needs a good cleaning anyway. The above picture was actually taken around 8AM. It was too dark to get that picture when we arose at 5AM.
By 5:30AM, I was making some egg noodles. And, just in case you too planned to put together a greenhouse today, were foiled by Mother Nature, and are having a hard time coming up with a Plan B, I'm going to offer you an alternative and step you through making your very own home made egg noodles.
This is my kind cooking right here. It consists of a whole whopping three ingredients – flour, eggs, and a pinch of salt. I omitted the salt because, well, I forgot. Cut me some slack here – I hadn't even quite made it through my coffee when I started.
So here's what you'll need:
Two cups of flour (white or whole wheat), four eggs, and (if you can remember) a pinch of salt.
Now, pour your flour into a large bowl. Make a well in the middle of the flour and place your four cracked eggs in there. You can use the utensil of your choice to mix this all together, but I prefer to use my hands. It was at this point I wanted to take a picture, but my hands were fully immersed in eggy flour and I couldn't find Bernie. Just mix the flour and eggs much like you would mix any dough. You want to end up with a stiff and slightly sticky dough. Transfer that dough to your pastry sheet, or your counter. Whichever you use, be sure to lightly flour the surface, and then lightly flour the top of your dough. This will help keep the dough from sticking as you roll it out.
Now take your rolling pin (or is it rolling pen?) and roll out your dough. The thickness is completely up to you and your preference. The important thing is to roll it out so that the thickness is consistent. I rolled mine out to about 1/4 inch thick. We like noodles you can sink your teeth into.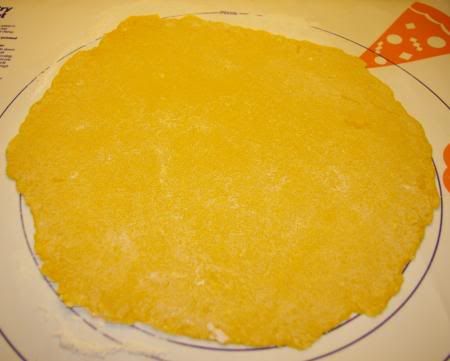 Once you've got your dough rolled out to the thickness you like, roll it into a jelly roll
Now you're going to slice your noodles. You can slice these as thick or thin as you like. Use a sharp knife, or a piece of strong thread. I prefer to use thread. To use this method, slide your thread under the jelly roll and position it at the desired thickness.
Pull the thread up and cross it over the jelly roll.
Then just pull it through to slice.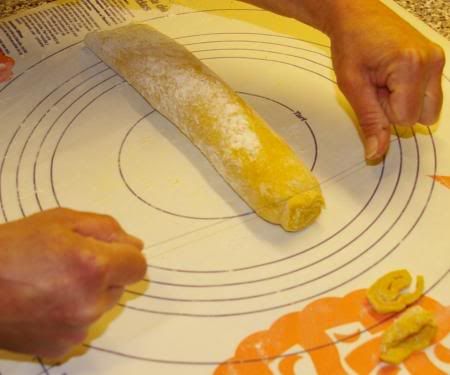 Repeat until you make it through the entire jelly roll.
Unroll each noodle and lay it flat on a tea towel or something similar.
And now you can go clean your house, check your email, write a blog, or go back to bed while your noodles dry for a while. The length of time to dry is going to depend on how thick you made your noodles and the humidity in your house. I'm going to leave these to dry all day and use them tonight in either goulash, or chicken soup. It's too early for that decision right now.
I guess there's no law that says you have to dry the noodles first. You could start cooking with them as soon as you slice them, if you like. I've heard that some people do that. Oh, and that little bit of flour left on the noodles? Well, it'll wash off if you boil your noodles in water, or simply add the dry noodles to your soup/stew and the little bit of flour will help thicken it as you cook the noodles. And you aren't limited to skinny little noodles. You can make your own lasagna noodles with this dough too.
Once they are dry, you can store your noodles in a sealed jar for about a month.
Bon apetite!
Penny
Tags: home made egg noodles