Bernie and don't plant squash in our garden. Bernie does not care for squash – although he recently told me he does like Acorn Squash. Geez, the things you learn after 20 + years of marriage. At any rate, he doesn't particularly care for squash and I've learned that people who grow squash are usually eager to share it, so I count on the generosity of others to supply a fresh squash once or twice a year to satisfy my taste for it.
So, when a volunteer squash sprouted up next to the tomatoes this spring, I was pretty darn happy to have just one little ol' plant that would likely produce plenty of squash for the one person that eats it around here. I figured it was a seed from some Zucchini Bernie's mom and dad gave us a couple of years ago. I remembered throwing the ends of the Zucchini in our compost pile, and we used the compost pile in the garden this year.
As time went on, this squash really started getting big. It began sprawling outside of the raised bed it was rooted in, and before too long it choked out the vegetables I had growing in straw bales.
This wasn't especially upsetting to me because I've been very disappointed in my experiment with straw bale planting – but that's another story for another time. The squash plant began to bloom and I began to get excited to finally see what the heck kind of squash we were growing. And this is what we're growing: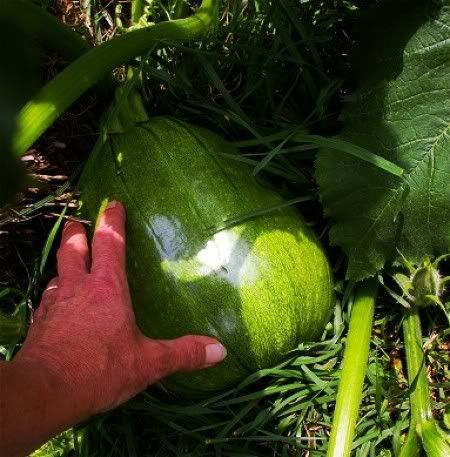 OK, so all you squash experts out there – what the heck kind of mutant squash are we growing around here? And will it stop spreading or do I need to call the National Guard?
I ran out of gauze wrap, so I cut up some scrap material to make the wrap for Duke's leg. This morning I wrapped it in baby blue bunny print fabric.
Fortunately, he's so fat he can't see his feet. Unfortunately, all the other chickens are laughing at him. He hasn't spoken to me all day.
Bee Free,
Penny
Tags: squash