The evening before the 2010 Snowmageddon began, Bernie and I signed a contract to have a deck built. That was a couple of weeks ago, and there has been so much snow on the ground since that day that I was beginning to doubt we'd have the deck before summer. But Friday, the construction company sent a guy out with a Bobcat to move all the snow away from house so they can start work a lot sooner. And while Mr. Bobcat was here, he cleared the area in the backyard where the goat barn will be built so Bernie can start on that. Yay!
The snow has been moved for two days now, and the temperatures have been above freezing during the day, so the area around the house is close to being snow-free.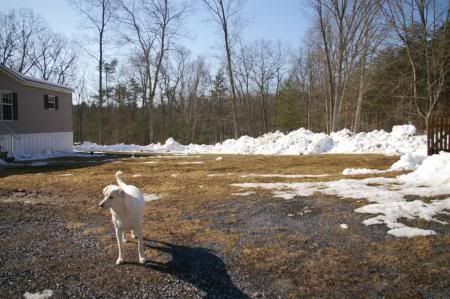 And, even though it's muddy, I will absolutely not complain….. this time…..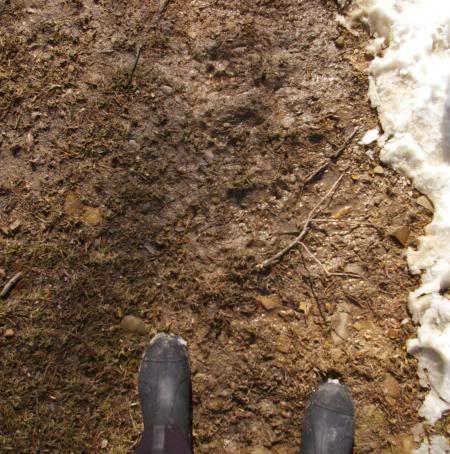 The deck will span the length of the house in the front, and then wrap around to span this side of it.
Diesel and Dolly are standing on the path Mr. Bobcat plowed to get to the area where the goat barn will be built.
Unfortunately, I forgot to tell Mr. Bobcat about the Sewage Treatment Plant the county forced us to get, and we suffered a casualty.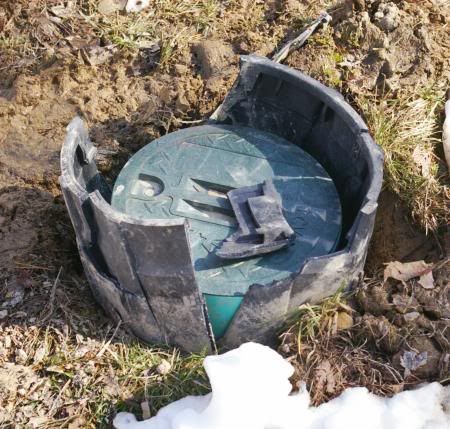 The good news is the piece that was shattered is a protective cover that we can hopefully get replaced easily. And Mr. Bobcat did make it back to the goat barn area and get it cleared.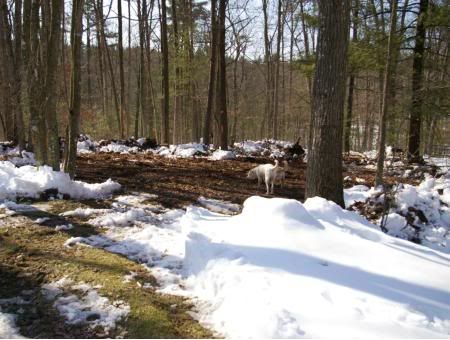 We are supposed to get freezing rain tomorrow, but it doesn't sound like there should be much, if any accumulation. Bernie plans to start building the goat barn Tuesday. And I'm hoping the deck work begins very soon.
While I was out taking pictures today, I decided to head up to check on the plants in the greenhouse.
Its was 41 degrees outside, but it was balmy 83 degrees in the greenhouse, with 34% humidity.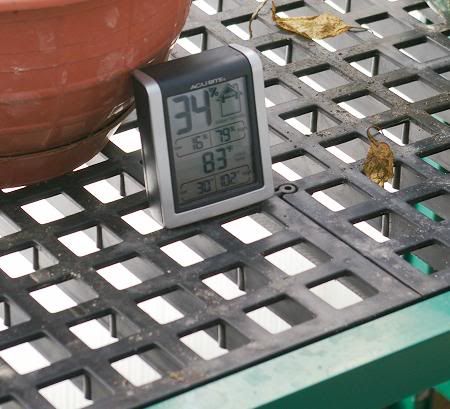 The thermometer displays a few things, and one of them is the low and high for the past 24 hours. It looks like it got down to about 30 last night in there, and the highest temperature in the past 24 hours was 102 degrees. And the most of the plants in the greenhouse look pretty good. They died back for the winter, but many are beginning to pop up again.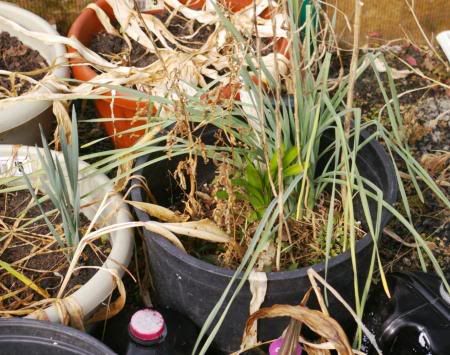 Psssst, Danni……. this is the rhubarb. I'm hoping it'll be ok for a month or so until I can get it into the ground…..
I didn't check the greenhouse on a regular basis during the really frigid weather we had, but I do know that the gallon jugs I painted black and filled with water never completely froze – even during the week or two that we never got above freezing.
Things may not be happening as quickly as I'd like on the homestead, but I think they are finally starting to move along now.
Tags: greenhouse