This year I tried something a little different in my garden. I planted a couple of Loofah plants. We had an usually long, cool spring this year, so everything we planted was slow to get going this year. The Loofah was no exception. But, in the past couple of weeks, the Loofah has taken off, and the flowers have begun to bloom.
The flowers come in pretty little clusters.
The Loofah is actually a type of squash and, like most other squash varieties, it produces both male and female flowers. The female flowers produce the squash.
When small, the squash can be eaten. But I planted these Loofahs for two reasons 1) to see if I could grown them in this climate and 2) to let them dry and make loofah soap with them. I know they will grow in this climate.
But they got a little bit of a late start, and now the weather has turned very cool. I'm not sure if the squash will continue to grow and have enough time for me to allow them to start drying on the vine before the cold weather gets here and kills it.
I think that the few small squash on the vine will be ok, even if they don't get as big as I'd like. And next year I plan to have several Loofah plants and get them in the ground a little earlier.
And remember that mutant pumpkin?
Well, the plant managed to put out two more pumpkins for us.
Not as big as The Great Pumpkin it initially gave us, but two pretty nice looking pumpkins, none-the-less.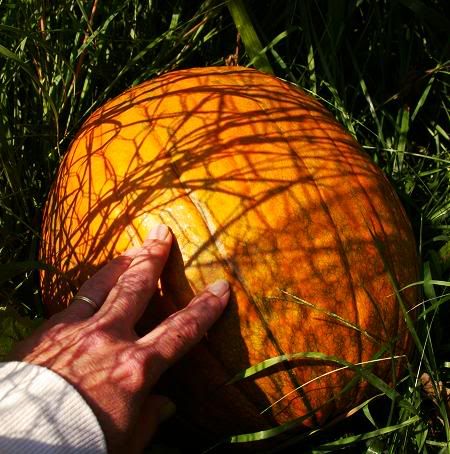 You know how I am about orange tasting stuff, but so many of you have sent me some really great sounding recipes using pumpkin that I may just end up eating these things this year. Either that, or I'm going to have some orange pooping chickens for quite some time.