Bernie and I have been busy in the yard, preparing for the colder weather that is quickly moving in. We cleaned up the garden and added some mulch from the straw, pine shavings, and chicken poop pile that's been cooking all year. We covered the outdoor plants in leaves and pine straw. I brought in tender plants that have lived in the greenhouse all summer. And, for the few plants still in the greenhouse? Well, I've been saving milk jugs all year. So I painted them all black.
I took them up to the rain barrel filled each with water. And then I put all the greenhouse plants on the floor, and placed the jugs among them. The hope is that the water in the jugs will heat up during the day, as the sun shines, and provide a little extra warmth for the plants through the cold nights.
Well, not all the greenhouse plants. I left a couple of tomato and pepper plants on a shelf, just to see how well they will hold up in cold weather in the greenhouse.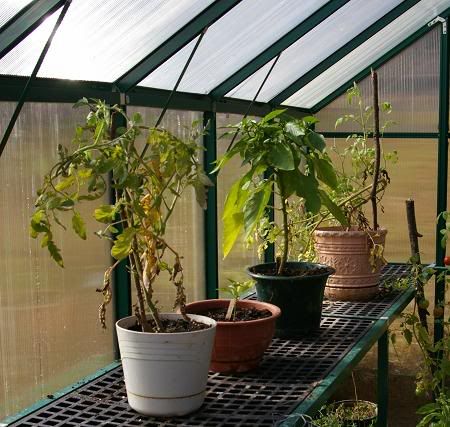 The tomatoes plants have kept us in tomatoes for a while, but they are starting to peter out now. The large pepper plant is loaded in small, tight blooms. I'm interested to see if we get any more peppers off of it. I have a very small pepper plant I started a month or so ago. I have no idea how well it's going to do as time goes on.
And as the cold weather moves in, so does the reality that Christmas is just around the corner. You may remember that I covered several eggs in polymer clay for Christmas ornaments earlier this year. Well, Angie, over at Home Grown, posted about some ornaments she made from eggs – and they are absolutely gorgeous. I knew I had to make some of these.
Here are some of the first few I made:
This first batch was made with some fun stickers I thought would be cute.
I have over two dozen more that are waiting for the caps and strings to be applied. These are mostly modeled after Angie's beautiful eggs.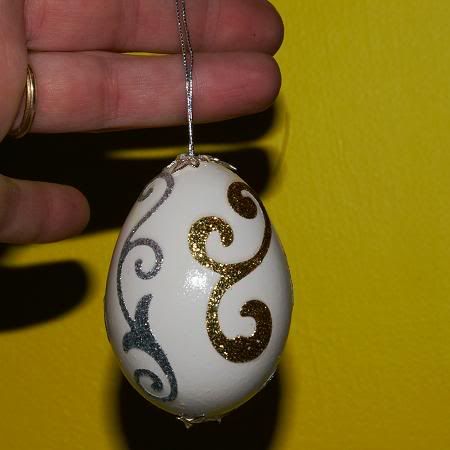 This is such a fun project, and I think these ornaments are my favorite. They are easy to make I'm sure they will be a beautiful addition to any tree. You've still got time to make your own! Hop on over to Angie's blog and learn how!
Fall is also the time of year that many people dig their horseradish to make horseradish sauce. When we lived in town, we had horseradish that started as two, small roots. Over the years it flourished, and we liked to dig it up in the spring to make horseradish sauce. When we moved to the homestead, I dug up a couple of roots to get started with out here. That was two years ago, and the horseradish is going strong.
I like to give new horseradish plantings at least a couple of years to get well established before digging them up, so we didn't dig any of ours this year. But we have a neighbor who had some growing next to his house and, even though he didn't know what it was, he really disliked it. Horseradish has huge leaves and, if not contained, will grow out of control. When I told him how lucky he was to have horseradish he said "You want it? Dig up as much as you like. I'm getting rid of it."
So, yesterday, Bernie and I dug up our neighbor's horseradish. It was well established, and the roots ran so deep there was no way we could get all of it. He'll be dealing with horseradish again next year….. but, in the meantime, we had a bucket of horseradish that we planned to turn into horseradish sauce.
If you decide to make horseradish sauce, I highly recommend you plan to do it outside. When we lived in town we made horseradish sauce in front of an open window with a fan sucking the air out. And it was very painful. Nothing can make eyes and noses water and sting better than horseradish! This year, we decided to move the entire operation outside.
I washed the roots under the outside spigot.
They're looking better already.
Then we took them to the picnic bench we moved in the garage and began the tedious chore of peeling them. Knives and potato peelers work really well.
Once they're all peeled, wash them one more time.
And then it's time to grate them. We use food processors for this step, but you can hand grate them if you have the time and patience.
When we finished, we had two large bowls full of grated horseradish.
But we're not quite finished. See how chunky it looks? We ran all of it back through the food processor on chop mode. And when we were finished with that, we had a nice, horseradish sauce consistency.
Then I just filled jars with horseradish, dumped in a little salt, added a pinch of sugar, and topped each jar with white vinegar.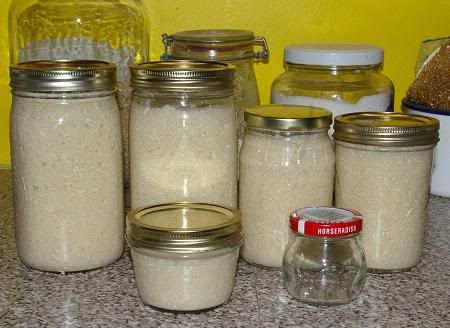 And now we have two quarts, two pints, and one half pint of fresh, homemade horseradish sauce.
Oh, and see that tiny, empty jar? That's a jar from some horseradish sauce Bernie bought at the grocery store a while ago. It was good, no doubt about that. But it wasn't as good as homemade horseradish sauce, and it was very expensive! And have you ever read the list of ingredients on some of that store bought horseradish sauce? Making your own horseradish sauce is a little time consuming, but it's extremely inexpensive and it's easy. I think it's worth every minute it takes.
It's that time of year, and we're staying busy with "Fall Chores" on the homestead. I always dread the cold weather, but I like doing "Fall Chores". It feels good to have things cleaned and tucked in and ready to get a few months of rest. And it feels good to work on the things that only get done this time of year.
What kind of "Fall Chores" are you doing?
Tags: egg ornaments, greenhouse, homemade Christmas ornaments, horseradish