I think life would be better if we could all hug a chicken once a day. Really, I do! I know J.P. would agree.
J.P. asked for some chicken pictures
Some chicken pictures is exactly what I intend to post today.
But first, I'm gonna post some chicken related pictures…….
There are three screened windows in the chicken coop, and they sure come in handy on hot, summer nights. The problem is I am always worried that a hungry raccoon will find a way to get up to an open window at night and easily make it through the screen. Bernie and I discussed it and came up with what I think is a great solution……. galvanized cage wire. And I had a roll or two in the garden shed that I bought last year when I had planned to rebuild the brooder boxes.
We cut it to fit the windows, and then Bernie used small galvanized fencing staples to secure it to the window frames.
And now all three windows are much more secure from sneaky raccoons.
And I can sleep better at night.
And speaking of sleeping….. the mamas and new babies are sleeping up on the roosts at night now.
This mama likes the highest roost….. and one of her babies likes the window vent for snoozing.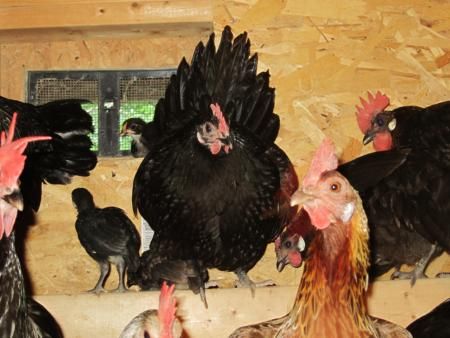 And the little baby that likes the window vent for sleeping? It's a little cockerel.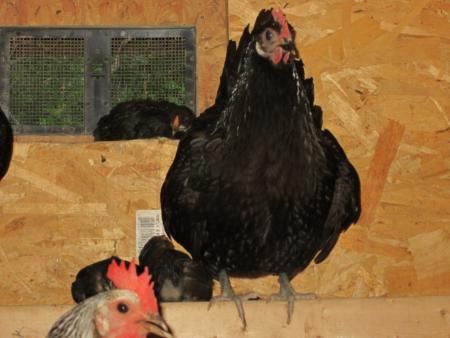 So far, I'm pretty sure it's the only cockerel we've got….. which would be a welcome respite from the cockerel filled summers we typically have!
Everyone was settling in for the evening when I was taking these pictures.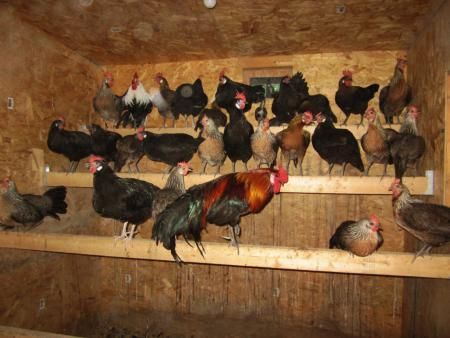 And Pretty Boy Floyd was getting a little preening before lights out.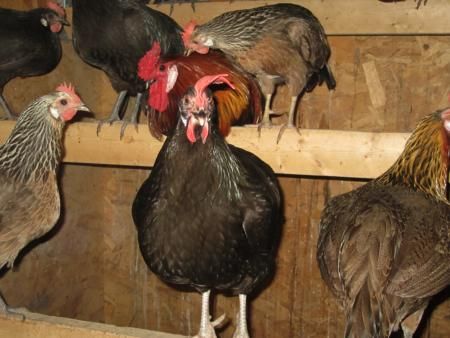 I am down to two broodies right now – one I gave some eggs to set on, and the other I am working on breaking. She's a mean little heifer, and I'm not going to let a mean hen hatch out babies when I have way too many nice broodies to do that for me. Mean broodies get pretty nasty when I have to change the feed/water in the brooder boxes….. I'm pretty much done with mean chickens…..
Anywho, here is my sweet broody and the eggs she's setting on.
There are two reasons I love my broodies – I can very easily increase the size of my flock and the broody will integrate the chicks into the flock without me having to stress over it too much!
OK I admit….. it's always a little bit stressful, but a lot LESS stressful when they've got a mama to fight their battles.
As soon as the mamas start bringing the babies out of the coop, I lower the feeder so they can reach it. And in short order, the babies are eating right along side the big kids.
And speaking of eating….. these Black Spanish girls jump out of the coop first thing in the morning and follow me to the goat barn. They like to share the goats' breakfast.
I could keep you here all day with chicken pictures….. maybe even all week…… but it's thundering and I'm praying we're gonna get a much needed rain tonight.
So I'm going to post this now, before we lose electricity, and say a little prayer that 2013 is being gentle with you, and hopefully even kind to you.
I think we could all use a good year right about now.
Maybe I'll go hug a chicken before the rain gets here 🙂