We've had snow, rain, sleet, wind, and cold weather sprinkled in here and there for the past couple of weeks, but, when the weather cooperated, we've (mostly Bernie) been working on the chicken coop addition.
This is what it looked like about 2 weeks ago.
Bernie's been working on it as time and weather allows, and this is what it looked like last weekend.
Yesterday he ran electricity over to it from the existing side, and we're planning to insulate it and wall up the inside this weekend, and put the steps back in front of the door. Then it will be ready for the baby chicks that should arrive here on April 2nd. Later Bernie will finish the soffets, and I will have to paint it.
A couple of weekends ago my friend, Susan, visited us from South Carolina. And she brought some farm fresh whole milk with her.
She brought 4 gallons of whole milk, and 1 gallon of buttermilk. I've used the buttermilk for buttermilk biscuits (and they were ooooow-la-la) and I plan to freeze some of it for use in fermenting vegetables. The whole milk was delicious with my breakfasts, and with 2 gallons of it, we made some cheddar cheese. We made our first cheddar cheese a little over 4 years ago, from a kit we bought from the New England Cheese Making Supply Company. I had to order new cultures and rennet, but we used the same mold that came with the kit.
So I have 2 things to say about making cheese…… 1) it's really tasty and 2) it takes a lot of time……
We decided to make Farmhouse Cheddar because, even though it's better when aged several months, you can eat it in about one month.
Making Farmhouse Cheddar requires 4 things – whole milk, cultures, rennet, and time. OK, maybe 5 things – it also requires the necessary equipment. Which isn't very difficult, really.
We started by pouring 2 gallons of whole milk into a stainless steel pot, and adding mesophilic culture.
When it reached 90 degrees, we added the rennet, covered it, and kept it at 90 degrees for about 45 minutes.
Then we cut the curds.
Next we put the pot into the sink that was filled with hot water and slowly raised the temp to about 100 degrees.
Then we strained the curds through a cheese cloth lined colander.
We tied the cheese cloth, and hung it over the bath tub spigot to drain.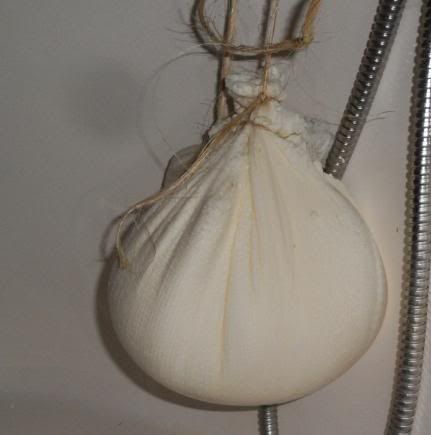 We let the curds drain for about an hour and a half while we made and ate our pizza.
Then we put the curds in a cheese cloth lined mold.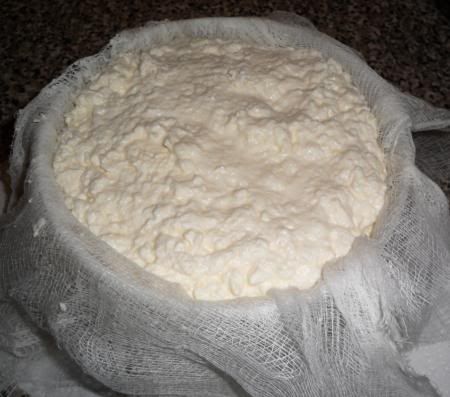 We folded the cheese cloth around the curds and added about 10 pounds of pressure – in this case it's foil covered bricks.
After about 15 minutes, we increased the weight to about 20 pounds of pressure – again, foil covered bricks.
After 12 hours we flipped the cheese and continued with 20 pounds of pressure for 12 more hours.
Then we carefully removed the cheesecloth and let the cheese air for about 3 days or so to form a rind.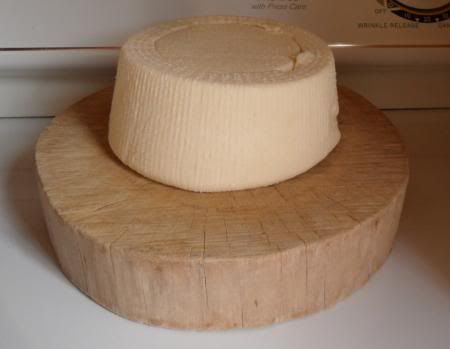 After the rind formed, we waxed it.
And in about a month we'll remove the wax and eat it all up
Oh, and with the whey, I made some ricotta cheese that was really tasty.
The farm fresh milk Susan brought us was delicious, and I'm sure it's going to result in some wonderful tasting cheddar cheese. To thank her for her kindness I sent her home with a box of meal worms to raise for her chickens.
But I'm not sure the worms will bring her as much as enjoyment as the milk brought us!
Tags: making cheddar cheese