Between the trip to Richmond last week and the trip to the dentist, somewhere, somehow, someone managed to infect me with a Death Cold. I'm feeling better now, but the last week has been misery. And today poor Bernie is sick as a dawg with it. People have germs and they are not afraid to share them. Watch your back out there.
We had an ice storm a couple of days ago. Naturally, when there is weather trees on our homestead start falling down. We had to spent some time clearing the driveway of fallen trees. Even though it can sure cause some damage, ice is really pretty to look at. I put some pictures I took up on the website if you'd like to take a look. While I was playing around with the camera, I got this shot:
I wish I had been paying better attention instead of focused on catching that little drop of water. I would have made sure Bernie's blue tarped fire wood pile wasn't the background for the picture. But I kind of like it anyway.
I decided to do a little project with glycerin soap and make something kids will enjoy. I poured the soap into cello bags, embedded little plastic toy gold fish, and then topped them off with more soap. Look at how cute this little fish in a bag is: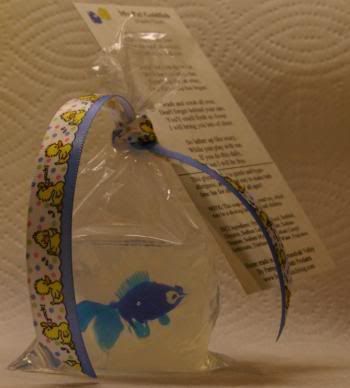 I made several bags and used all different colored fish. I even wrote a little fish poem and attached it to the bag. Just when you thought you had witnessed the extent of my talents, I offer this for your amazement:
I'm just a little fishy,
Won't you set me free?
Make the bathtub swishy,
And lather up with me.
While we're in the water,
We'll have so much fun.
Splashing like an otter,
Our friendship has begun.
Wash and scrub all over,
Don't forget behind your ears.
You'll smell fresh as clover.
I will bring you lots of cheer.
So lather up like crazy,
While you play with me.
If you do this daily,
Soon I will be free.
Now what kid could resist a soap with a fish toy and an awesome little poem like that?
Tomorrow is Super Bowl Sunday. Bernie has his menu planned – I just hope he's feeling well enough to enjoy it.
People make me sick – and apparently I make Bernie sick.
Bee Free,
Penny