A few weeks ago Dolly and I met up with our walking buddies, Mary Ann and Daisy, and took off for our daily walk.
About halfway through it I said "Oh, look. There's a pig in the road."
Mary Ann looked at me and said "What are you talking about?"
I said "Isn't that a pig in the road?"
And about then, the pig heard us. It seemed to get very excited to hear human voices and started galloping towards us.
We had two VERY excited dogs, so we decided to run.
Away from it.
As fast as we could.
And it chased us. A good long way.
We were running, and panting, and discussing going over a fence to escape it when we came to a bend in the road and decided to try to out run it.
And out run it we did.
And naturally, I did not have my camera.
A couple of weeks later we were walking that same stretch of road when a pickup truck, towing a large cattle trailer came towards us. It stopped and the man inside asked if we had seen a heifer.
"No heifer" we replied. "But you wouldn't happen to be missing a pig, would you?"
"Nope. Just a heifer. She got away a while ago and I'm looking for her." He pointed to the pasture behind us, and we looked that way.
"There she is!" I excited exclaimed. She looked like an ant, she was so far away.
"I see her!" Mary Ann affirmed.
"Yep. That's her. Reckon whose pasture that is?" He asked.
He and Mary Ann discussed it a while, and I didn't chime in, as I had no clue.
He drove off and rescued her.
Or at least we thought he had.
Every day for the past several days, we've seen this on our walk.
She's usually laying down when we come up on her. But when she hears our voices she stands up to greet us.
I think she wants to go home with Mary Ann and Daisy. Mary Ann thinks she want to go home with me and Dolly.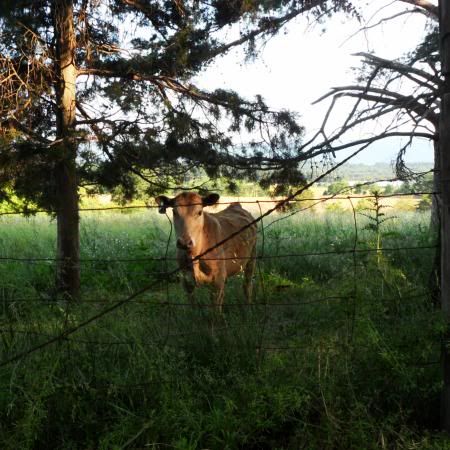 She's really a cutie. I wish we had gotten the owner's name and number. I worry that she's all alone. Daisy and Dolly would sure like to keep her company.
I'm pretty sure I never saw these things when we lived in town.
I wouldn't trade living here for the world.