I've had several people contact me about how to make soap and about the butter churner I bought off of EBay. I've been answering each individually, but this morning there were two seperate emails with the same question, so I thought it might be a good idea to give some info here on those questions.
First – the butter churner. When I started looking for a butter churner, I had three things in mind: 1) I wanted a hand crank churner 2) I wanted a glass churner and 3) I wanted a Dazey Churner. I really had no particular reasons for this, other than I wanted glass so I could see what is happening when I churn,I wanted a Dazey because that's really the only old, glass churner I've really ever heard about, and I wanted a hand crank because you know, being all into getting self sufficient and everything, I didn't want it to depend on electricity. I paid $50 for it. Here's a picture:
She's a beauty and cranks out some really awesome butter. I highly recommend her. Only she's not for sale. But I highly recommend one of her siblings.
As for soap making, I never bought a book on the subject. I never even thought about making soap until I started reading about other people having fun making soap. I can't stand when people have fun without me, so I decided I needed to get in on it. I started looking all over the internet and finding out about making soap. Two excellent resources are the Soap Making forum on HomesteadingToday and Mullers Lane Farm. And, of course, I have a page up on the Back to Basic Living website with step by step instructions and a basic soap recipe for beginners.
I found the most difficult part of soap making was finding the lye needed. After ordering from several places, I found Ace Hardware had the best deal – I order it by the case.
If you have other questions about butter churning or soap making, please don't hesitate to ask. I'm no expert, but I can either answer your question, or point you to someone who can.
Speaking of soap, here are a couple of pictures of my Sinfully Decadant Chocolate soap with swirls:
Ah – just gorgeous! This next picture is the same batch, but I ran out of the chocoate swirl. I think it came out really pretty, but I wanted more chocolate swirl: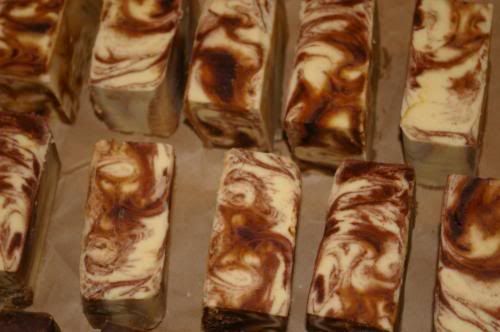 OK – time to go cook up a couple of nice steaks for supper. Bernie bought Live Free or Die Hard and we're going to watch it tonight while we eat. It's not Movie Saturday or anything, but we like to be spontaneous and adventurous on occasion. This is about as spontaneous and adventurous as it gets around here. Woo hoo!
Live Free,
Penny