A while ago, The Chicken Whisperer announced he would be giving away a 2-Hole Nest Box to a lucky winner on one of his radio shows. Exactly this 2-Hole Nest Box, in fact. I showed Bernie the picture and asked "Do you think you could make me one of those? They even have the dimensions listed there." He looked at it a few minutes and, in a very non-committal tone mumbled "Um. Yea. Probably."
Friday morning was rainy and chilly, and while I was working Bernie walked back to my office and said "I'll be out in my shed for a while". Just after lunch he came in and asked me to come out to shed to see what he had been working on. Imagine my joy when I saw this:
I was tickled to death! It was absolutely perfect! With the exception of one, minor detail.
Bernie decided the 2-hole nest box on the webpage I showed him just looked too small. So, in keeping with his belief that bigger is better, he built this particular nest box large enough to house pterodactyls. Two. Very. Large. Pterodactyls. The next box was so deep, that it would not fit in the one spot I had available for it in the coop. It poked out so far into the coop that I would not have been able to get inside the door.
So, this morning, Bernie and I spent an hour or so rebuilding his beautiful nest box. We whittled it down to something a little more, um, reasonable. And now the 2-hole nest box is the perfect size for my chickens, and my coop.
It's still larger than the one I had shown him, but it's absolutely perfect and fits exactly in the space I had in mind for it.
Tomorrow I'm going to hang some curtains over the nest box openings for my hens. They really like their privacy.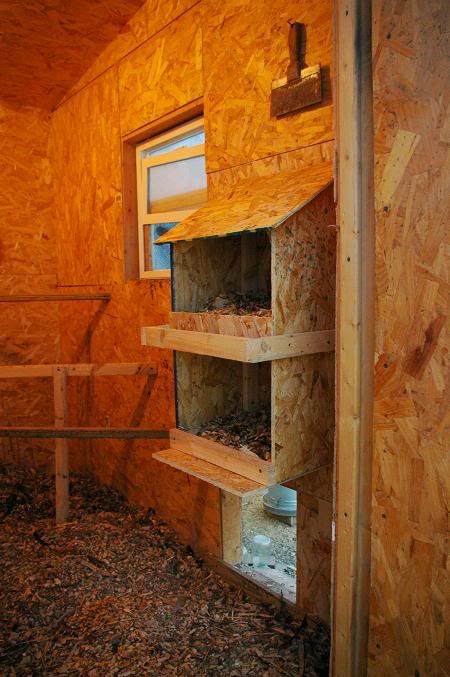 And the best part? It was virtually free. He used leftover pieces of OSB and lumber he milled with his sawmill. Beautiful, functional, and dang near free! Lordy, I do love that man.
Speaking of sawmill, Bernie had a neighbor over earlier in the week to saw up some cedar logs. It was a drizzly day, so I didn't get a whole lot of pictures, but I did get a few to share.
They squared up the log and then stood around measuring and mumbling about the size of boards they were going to cut.
Our neighbor had never used a sawmill before, and he was more than happy to learn how.
Look at that baby go.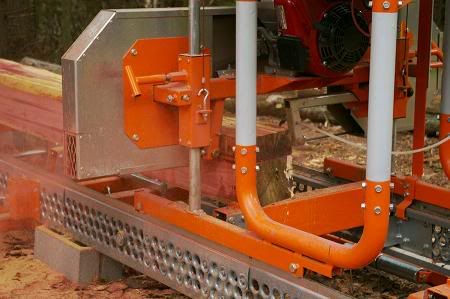 And just look at that beautiful cedar board.
The whole yard smelled like cedar. It was heavenly.
You may remember that I make and sell home made soap. Well, for months I have been trying to get nice pictures of my soap for my Penny Lane Bath Products website, to no avail. If I knew how to properly use my fancy schmancy camera, I would not have this issue. But that's a different story for a different time.
I decided the answer to my nice-soap-picture dilemma would be a light box. And while flipping through a sale magazine that landed in our mailbox, I found one that I thought would be perfect. It was inexpensive and came with free shipping, so I ordered it. I tested it this morning, and I'm pretty pleased.
Putting it together was a whole different story. It did come with instructions, but my Chinese is a little rusty.
And yes, there are English words sprinkled around in there. But, trust me, I was much better off trying to read the Chinese.
And by the time I got to this:

I knew there was no way those instructions were going to help assemble this light box.
So I looked at the picture on the box it came in which, by the way, did not even slightly resemble the picture on the instructions, and started putting it together. Fortunately, there are not many pieces and it ended up resembling a box. So I declared it a victory and now consider myself the proud owner of a nice light box.
I'll certainly heed the warnings to not shake and fall down the light at work. And I'm always careful with my spiny thing. Thank you, Chinese-to-English-Translator. But you may want to lay off the booze while working.
Tags: 2-hole nest box, light box, sawmill