I stopped using anti-antiperspirants a few years ago. There are a lot of reasons for this, but I'm not going to get into those. What I am going to get into, is how to make your own homemade deodorant. I like homemade because I know exactly what it contains. And that's not something I can say about most of the things we buy these days.
About two years ago, I read a few recipes for homemade deodorant and decided to go with an adaptation of the simplest of them all. I'm gonna share it with you, critique it for you, and share a new recipe I recently tried.
For this simple recipe, you'll need the following ingredients:
1/4 cup baking soda
1/4 cup cornstarch
5 – 6 Tbs coconut oil
12 drops essential oil of your choice.
Put all of this in a bowl and just mash it all together until it's blended.
I tried putting this in an old, empty deodorant stick I had, but it was so crumbly it was impossible to apply without scooping some out with my fingers and rubbing it in. It worked as well as any deodorant I've ever tried! But I was not happy with the application.
I wanted a "stick" deodorant. And then I found this recipe http://www.keeperofthehome.org/2011/09/gentle-all-natural-deodorant-stick-recipe.html and I adaped it a little. And I'm gonna share that with you. You'll need the following ingredients:
3 Tbs arrowroot or cornstarch
3 Tbs baking soda
3 Tbs coconut oil
1 1/2 Tbs beeswax
12 drops essential oil of your choice (I used orange)
Note: If you have your own beeswax, just grate 1 1/2 Tbs. Or you can use 1 1/2 Tbs. flaked beeswax. Just a tip from my dishwasher, don't use your husband's favorite grater for this. Nuff said.
Put all of that in a pot and heat it slowly while stirring. After a few minutes, it'll look something like this:
Keep heating and stirring until it's pretty smooth:
Then pour it into your empty stick container:
Try not to splash a bunch down the sides like I did. Let it cool for a few hours until solid.
I'm pretty happy with this recipe, but the next time I think I'll add a little more beeswax. It's not quite as solid as I like – although I will say it works well enough that I don't have to use my fingers. Which is a definitely plus in my book.
And I have a little update and a few pics to share with you.
Remember those chairs that Bernie put seats in for me to keep plants on? We painted them, and the seat. And we painted an old table to go with them.
I'm pretty happy with how they turned out.
The barn swallow that made a nest in the eve of the chicken coop lean-to hatched out three babies!
When I knock on the wall their little mouths pop open 🙂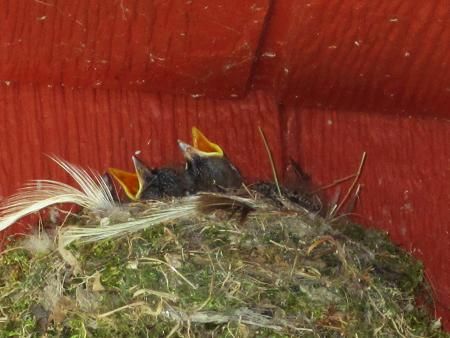 Speaking of eggs, I now have THREE chicken nests in my GOAT barn…….
But, as long as I know where to find the eggs, I leave them alone. *sigh*
And speaking of goats…….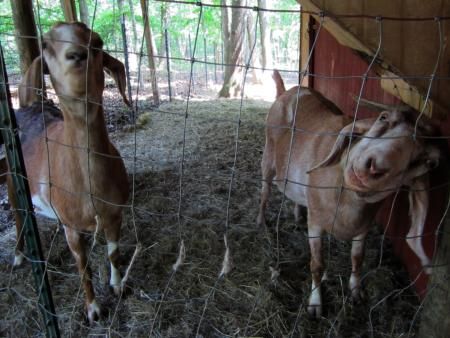 Beggars.
Bobby Lee is handsome as ever.
And Earlene is still her Duke-looking-self.
Oh, and look at these pretty Columbine showing off in my garden:
My garlic chive that is about 6 years old and desperately needs dividing…..
Ok, that's it for now. I'll leave you with a picture of our little place in the woods – and if you look closely enough, you may spy Bernie chilling after a long, hot day of working on these grounds.