With this very early spring we've been blessed with, our honeybee hives sprung to life early this year. Really early. And our first hive inspections were late.  Really late.
Because that's just the way we roll on this homestead.
By the time we did our first hive we found multiple swarm cells, and a couple of supersedure cells.  Fortunately, our neighbor from up the road, Si, came up to help with that first hive inspection. And Si knows bees. He also happens to raise queen bees.
So, naturally, when we discovered the swarm and supersedure cells,  we calmly looked at Si and screamed "WHAT THE HECK DO WE DO????????"
And, naturally, Si offered some solutions.
We could split our hives to give the girls more room, but that would leave us with four hives.
We don't want four hives.
We want two hives.
Or we could remove all the swarm and supersedure cells and go back into the hives every two weeks or so and continue to remove them. Because once a hive decides to swarm, there is really nothing that can be done to stop them from trying to raise a new queen.
Our weather is a little kooky now and we stay pretty danged busy, so we worried we wouldn't be able to keep up the constant removing of cells.
Finally Si offered a solution that we agreed was a good approach. Si would take our queens with him, allowing the hives to hatch out new queens and most likely to swarm with one of them.
We would lose bees to a swarm, no doubt. But, with the original queen gone, the number of bees that would leave with a new queen would be small in comparison.
So that's what we did. Si took our queens.
And our beehives did, indeed, swarm. I saw them.
But when we went back into the hives last weekend, the number of bees left was astonishing.
It appeared to work!
Only, we didn't find the new queen in one of the hives.
We looked and looked, and there was no queen.
Fortunately, as I mentioned, Si raises queen bees, and he brought three tubes with those little beauties on the verge of hatching.
So our plan was to put one of those new cells into the hive with the missing queen so she could hatch there and reign supremely.
But…… before we did that, Si decided we should take a look at those supersedure cells that had failed to hatch out. Maybe they weren't viable, because surely they should have hatched the day or two before…….
And when he removed it from the frame and started to gently pick at it, he was greeted by a queen bee chewing her way out!
Holy Bee Hive!
And Si birthed a new Queen Bee!
I apologize for the blurriness of that picture – I was shaking with excitement!
And here she is, joining her hive.
I almost peed my pants.
There is more to this story. Remember I told you there were a couple of supersedure cells? Well, I was holding the other supersedure cell, and it had a queen chewing her way out, too. But I gave her to Si to birth.
Cause I don't know nothing about birthing no babies – let alone Queen Bees.
So we left two queen bees in that hive. And, sadly, there will be only one next time we check.
There can only be one Queen Bee in a hive, under normal circumstances.
Although, nothing we do around here is very normal so……. we'll see.
And speaking of "not normal" things, today I looked out the window at the chicken coop and noticed something just wasn't quite right.
No, it wasn't that the new addition that Bernie painted is TOTALLY brighter than the old side that is dusty and faded – but thanks for noticing that I need to paint the old side. Seriously. Bernie needed someone to take his back when he declared "I painted the addition – the other side is YOUR responsibility".
But back to what I was saying….. do you see anything unusual here?
How about from this angle?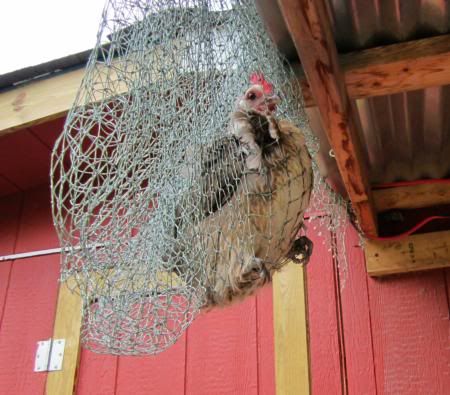 I don't even have a clue how she managed to get tangled up in that mess.
I got a step stool, which was woefully short, and managed to get her into this predicament.
And then Bernie came to the rescue with his he-man ladder so I could free her.
She was totally unappreciative.
I won't even begin to tell you the words that came out of her mouth.
But she was free as the breeze, complete with attitude.
Hussy Hen.