We dug horseradish this morning, and processed it this afternoon. I posted a little tutorial about processing horseradish a couple of years ago. That was a fall crop, and it was really good. But we find that spring horseradish has more bite to it, and we prefer to dig it in the spring.
So, we dug up a small amount of horseradish this morning. And I've gotten so many questions about the best time to dig horseradish that I took a couple of pictures that I hope will help.
We like to dig horseradish when it first appears in the spring. There is a reason for this. If you dig horseradish when it first appears most of the energy is still in the roots. And that means the roots will have plenty of "bite". This will produce "hotter" horseradish when it's processed. We also find that the root will be more pliable and less woody. We prefer it this way.
So…… this is a small patch that we dug. Notice the small leaves? That's about the largest the should be.
And notice the fuzzy kind of growth there? Well, that's really the ideal size you want to harvest it. We're a little late this year because the warm weather snuck up on us.
See all those roots up there? You want to leave those little roots. Just take the big chunks. Well, we take a few of the small roots – because those are gonna have that wonderful heat in them! But don't pull the whole plant out – you just want to take the biggest roots and a few of the small ones. Every single stinking piece of root you live in the ground is going to give you more horseradish.
Did I mention horseradish can be very invasive? Well it can. It seriously can. That is if you consider too much horseradish to be an issue.
Which we don't.
But we do like to keep it contained.
Because it will take over……
But….. if you feel you would like to add to your horseradish patch, or maybe start a new patch, or maybe even share your horseradish with friends, well…. just cut off the top part of the plant – the green growth – and stick it in the ground, and you'll have more horseradish than you know what to do with. When we dig horseradish I either replant the tops, or I wrap them in a wet paper towel and then give them to friends. It's very easy to grow and share. In fact, I'm not sure what you would have to do to kill it.
Here's the pint of horseradish we ended up with after it was processed.
We also harvested some rhubarb. Guess what I did with this?
Yes! Of course! I made our first rhubarb pie of the season.
That's all kinda bubbly yummyness right there.
This picture is for my cousin, Julie. Last year, as we were preparing for winter, I dug up a couple of young Borage plants to overwinter in the greenhouse. As you can see, one of them is blooming and a couple of blooms are going to seed. I'll save them for you, Julie.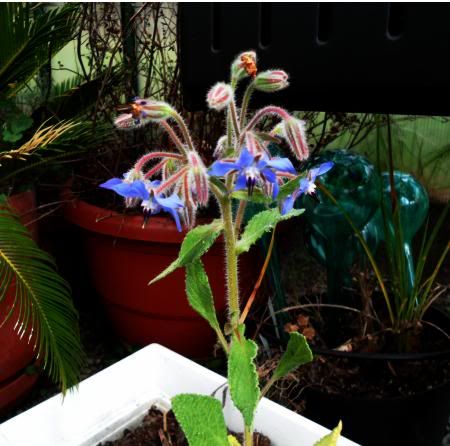 I also noticed that my Bleeding Heart is blooming in the flower garden.
So is the Primrose.
This early spring has been a blessing. I'm very happy about that. Especially since the new baby chicks I ordered will be here Monday. We got the brooder ready for their arrival today. I'll be sure to post pictures of the new peeps when they arrive.
And I'll leave you with this picture of Diesel. He's laying on his "thunder rug" by his daddy's feet. This is the special rug we put down for him to go to when he get's nervous about thunder storms. And this early spring has definitely brought some early thunder storms with it.
I think even Diesel would agree that this early spring is worth it.