We had some nice weather over the Thanksgiving holiday. Nice enough that I opened the kitchen window while I was cooking one afternoon.
Imagine my surprise at seeing this out that kitchen window.
Silly Tanya. She knows she's not allowed on the deck.
I went outside to discuss her transgression with her.
And I was really glad I did. It seems Sarah was having similar thoughts about visiting with me on the deck.
And when I walked over to discuss it with her, I looked down and found Jake, Turklet, and baby Turklet contemplating the same thing.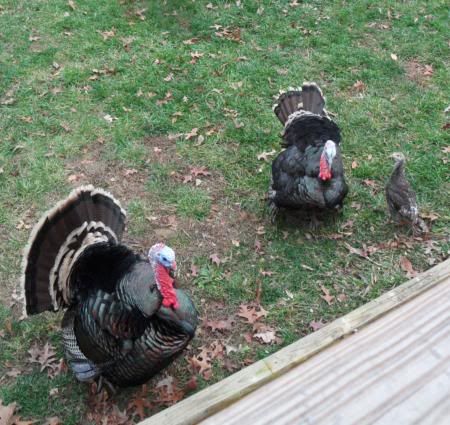 Well, this was as good of an opportunity as any for me to take some pictures and give you a little update about what's been going on around here with the turkeys, and the puppies.
You may have noticed there was only one baby turklet in that last picture. Sadly, I found the other one dead the day after the October snow storm came through. I really don't know what happened, but it broke my heart.
Also, as you can surely see in that last picture, we discovered a few months ago that Turklet is a jake.
Yes, indeed. A gangly, clumsy, jake. *sigh* Turklet was dangerously close to being invited to the dinner table until Diesel's surgeon said she would love to add him to her flock. He's a sweet boy, and I know he'll make a nice pet for her children.
Sarah has healed from her injury at an amazing rate. As she was healing, she was also molting. Poor girl. But the good news is that her wounds scabbed over very quickly, and are being covered by new feather growth around them – which makes me worry less about others pecking at her wounds. She was put back out with her flock within just a few days of her injury.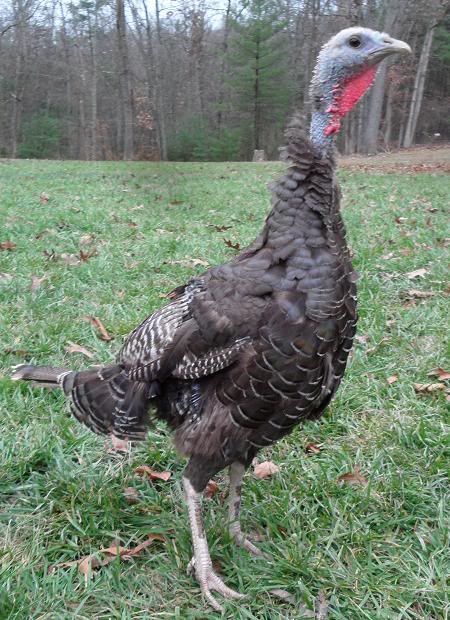 In that picture, if you look very closely, you can see the new feather shafts underneath her wing, and on the very top of it, that cover her wounds.
Jake finished molting and is, honestly, one of the most handsome Toms I have ever seen.
Diesel is doing really well after his surgery. He is just beginning to use his leg a little, and he rests a lot, but he's getting around and his surgeon seems pleased with his progress.
Dolly gets a little annoyed at all the attention showered on Diesel, so we're sure to spend a little quality time with her every chance we get.
And it's nice to see the pups relaxing at night and feeling somewhat back to normal.
So, we're all fine here and enjoying each day that we are blessed with.
I hope to get some posts up soon about some of my Christmas projects, and a few other things I've been meaning to post about.
And I hope each of you is enjoying this time of year with the people and critters that mean the most to you!