I had heard we may get a freak snow storm over the weekend, and to expect 4 – 8 inches of snow, and even though it started snowing at 8PM Friday night, I really refused to believe it.
Until we woke up Saturday morning to this……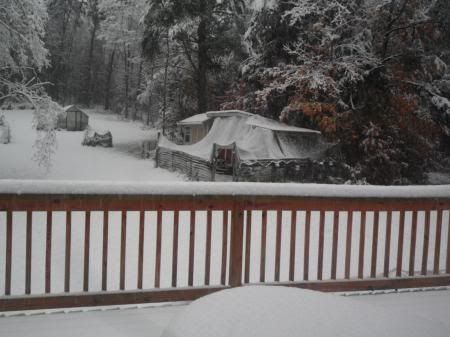 I don't think the goats chose to believe it either…..
And Dolly definitely chose to ignore it…..
The chickens and turkeys totally ignored it and stayed inside their coops all day long.
Bernie got a nice fire going in the wood stove.
Diesel called dibs on his spot right in front of the wood stove.
And then we lost electricity.
*sigh*
I couldn't let that stop me, though. I had a bunch of peppers to get ready for canning. And I ended up with several bowls of very pretty peppers.
Like these jalapenos.
And these assorted hot peppers.
And these wonderful pepperoncini.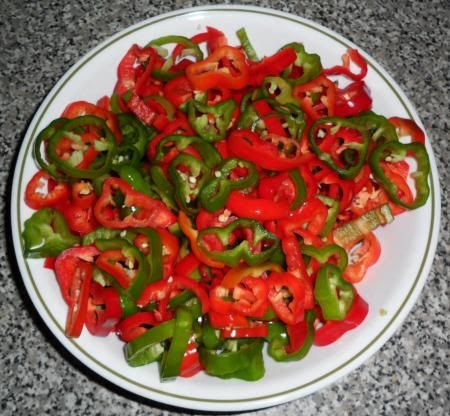 But, with snow steadily falling, and no electricity, canning them had to wait. And this is where the peppers waited it out….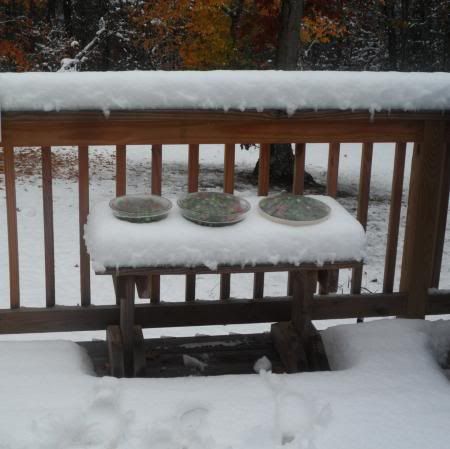 And here…..
And when Bernie shoveled the deck, he left me a little cooler for my wine.
That made me very happy.
When it started to get dark, I got to use my wine bottle lamp, with my nifty rooster wick holder.
And we lit the house with oil lamps.
And enjoyed the pups by candle light.
We heated up leftover hamburgers on the wood burner, and warmed water to wash with, but I didn't get pictures of that. I must say, those were some of the best hamburgers I think I've ever eaten though.
And when we woke up this morning, we had electricity.
Which is nice.
And we celebrated by canning those peppers on the deck.
How odd to be canning with snow in the background.
But the peppers look so pretty.
October is going out like a Lion.
I'm just a little afraid of what November may bring………