My girls do not often lay iddy biddy eggs, but it makes me smile each time I find one.
Everyone seemed quite tickled with this iddy biddy egg. And, even though all my chickens lay white eggs, this egg has a pretty pinkish shade to it.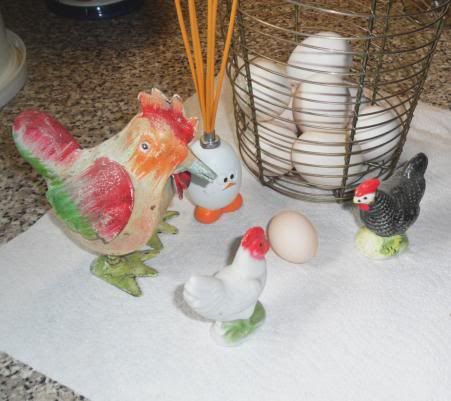 Here it is with the other iddy biddy eggs I've found.
It's not as small as the others, but it's much smaller than a regular sized egg.
I set my iddy biddy egg on the windowsill to dry out, under the watchful eyes of its' new friends.
I've heard some rather crude names for these type of iddy biddy eggs. But I can't bring myself to call something so cute such unattractive names.
I find it amazing that out of the thousands of eggs I've collected from my chickens, I've only found 6 iddy biddy eggs.
Do your chickens lay iddy biddy eggs? What do you do with them?