Look at this adorable starter pot Angie gave me, with a cute little purple tomato seedling in it: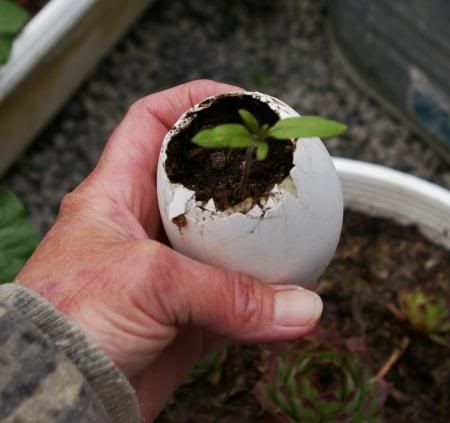 That starter pot is a goose egg. She told me to chip out a little of the bottom when I plant it. Being in the egg shell will supply calcium to the tomato as it grows. I just love that! She gave me two goose eggs for us to eat and those are some BIG eggs! Bernie and I scrambled one and split it for breakfast yesterday. It was absolutely delicious. I cracked it up high so I can use it as a starter pot for another tomato.
If I had geese I would certainly use the egg shells to plant all my tomatoes. But I don't. What I do have is a bunch of toilet paper and paper towel rolls we've been saving. And today we used them to make several starter pots.
We cut the paper towel rolls down to roughly the same size as the toilet paper rolls. Then we just folded over and tucked one end of each.
Bernie does a far better job at this than I do.
Many of the ones I made have small gaps in them. But that's ok. They'll will get a couple of small rocks in the bottom before adding the soil and they will be fine.
I had hoped to get all my seeds started this weekend in the greenhouse, but there are just not enough hours in the day…… It's ok. They won't be able to be put in the ground until the 2nd or 3rd week of May, so they have time.
I hope this is a good year for gardens. I'm so excited to move past the brutal winter we've all had this year. How about you? Are you starting your garden yet?