If you regularly follow this blog, you know I've posted several time about Angie's blog. Angie is nothing but awesome. She raises chickens, turkeys, goats, and heaven only knows what else. And she's FULL of knowledge about how to raise them. I've learned so much from her. She's also taught me to make grocery bags out of 50 pound bird seed bags, how to make homemade yogurt, how to….. well how to do many, many things. She's also a moderator on backyardchickens and I have nothing but respect for her. She also happens to live a couple of hours from me.
Being the Angie Fan that I am, I also follow her on Facebook. And today she posted that two of her goats had kidded six babies. Three of them passed away 🙁 But three of them are alive and, thanks to Angie's most excellent care, are doing quite well.
I need to explain "excellent" care here. Angie brought these three babies into her home and sat with them next to the fire. She put pampers on them (YES – pampers) and they are living in her home. She and her family hold these babies and wrap them in blankets that they rotate in and out of the dryer to make sure they are warm. They fedd these baby goats with bottles filled with the goat mama's milk. Angie's teenage daughters sleep in the room with these precious babies and set their cell phone alarms to go off every two hours so they can awaken and feed these babies. There are many, many days of goats living in the house for Angie and her family. And do you know what? Angie doesn't care. She's such a good goat mommy. These babies will be sleeping in laps and wearing pampers for quite a few more days. Or weeks. Maybe just 4 more weeks……
Angie knows how badly I've wanted goats…. really, really, really wanted goats……. We talked last fall and she had some ready for me to take. But Bernie and I were not ready. We didn't have shelter for the goats. And we didn't have a fenced in area for them. Angie said "No worries". She knew there would be future goat babies, and I knew Bernie would build me a goat shelter in the spring.
But then these babies came. Early in the year. When we still had no shelter. And Angie taunted me with them. She posted pictures for heaven's sake! *gasp* And I knew…. I just knew….. and after a day of "discussing" it with Bernie, he agreed. He'll need one month to build a proper shelter, but after one month, I can bring these precious goat babies home! Yay! But shhhhhhh, don't tell Bernie…… I'm hoping it won't be a full month……shhhhhh……
So, without further ado, meet Mirrie: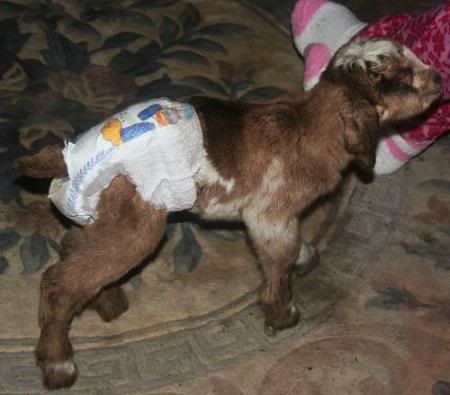 And Chance and Hope:
The white baby is Chance, and the fawn colored baby is Hope.
There is a really precious story behind each of their names. And I will share it later.
But right now, please be happy for me. I am excited beyond words. And I am so very, very happy that three little goats from Angie's farm will be coming to live with us on the homestead.
This homestead is growing. And I am smiling. Really, really, really smiling.