We've been going through some serious molt around here. My chickens have looked just awful, and the coop and yard have been filled with feathers. It's a natural occurrence, and it takes a lot of energy to grow new feathers. So nature designed it that chickens will molt when there is a slow down in egg laying, hatching, and making new babies. Their bodies focus on growing new feathers. Hens stop laying and going broody, and roosters aren't quite as amorous as in the spring. Chickens need their reserves to replace all those feathers, and that makes sense to me. Unfortunately, the typical timing of a molt just so happens to be as the colder weather starts to come in. And half naked chickens have to run around with little to keep them warm during this time. Plus, they look down right pathetic.
But the good news is, it only last three or four months or so. Today I noticed that Bobby Lee, the Phoenix rooster, is busy growing in his beautiful tail feathers.
Those white, quill looking things are his feather shafts, and each has a beautiful feather starting to come out of the end of it.
I'm thankful we are heading out of the molt. Not only am I glad my chickens will look better and stay warmer, I'm glad egg production may pick up a little again. Two to four eggs a day out of all these hens is a little disheartening. Even if the older hens don't start laying again until next spring, at least I've got the pullets to help get us through the winter with eggs.
So many of my hens hatched out chicks this year that I've got a variety of ages in the yard. Many from the hatches from the last few months are teenagers now, and they are refusing to roost at night. They prefer to sleep in the nest boxes. This may not sound like a big deal to you. But it's a BIG deal to me. These teenagers poop in the nest boxes. And they poop a lot! Each morning I have to change out the bedding in the nest boxes, and I don't like changing out poopy bedding in the nest boxes. It kinda gets on my nerves. I have WAY too many teenagers to spend each night removing them and placing them on the roosts. So I came up with a plan…..
Remember my newly renovated nest box area?
Well, this is how it will look every night, from here on out, until those teenagers learn to get on the roosts:
And those new nest boxes Bernie built me?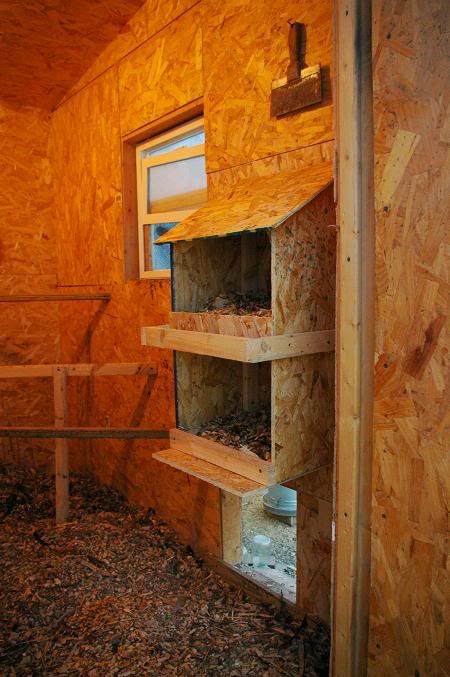 Well, they're now covered at night too.
Ha! That'll teach 'em.
Wait. You don't think they'll out-think me on this one, do you?
I just don't trust these sneaky little chickens…..