When my hens started going broody back in March, it caught me by surprise. I really did not expect to have broody hens because I intentionally bought what I believed were non-broody breeds. I quickly built a couple of brooders in the coop out of hardware wire. I disliked those brooders immensely. They had sharp wires poking up everywhere and, as a result, I have had scratches and torn clothing all summer. And I always worried that the chickens would get hurt on that wire. I actually suspect that may be where Duke got the foot injury that resulted in the Battle-of-the-Bumblefoot we've been going through around here.
So this past Friday, I took the day off work and Bernie and I rebuilt the brooders. I'm much happier with them.
We also put a much steeper slope on the top of the nest boxes to keep the chickens off of it. And we moved one of the roosts to keep the poop away from the brooder area.
While I had the camera out, I remembered to take a picture of a volunteer flower that came up in the strawberry bed. That area had previously been a wildflower bed and this flower is apparently the result of a seed that was left in there:
I honestly don't remember seeing a flower like that in the wildflower bed. I'm sure I would have remembered such a beautiful bloom! OK, all you flower-name-knowing people, any idea what kind of flower that is? I plan to keep the seeds. That's one of the prettiest flowers I've ever seen! It's like a bouquet of flowers in one bloom.
I'm not very good at remembering to take pictures so, since I had my camera handy, I took it along when the pups and I went on the mail run this afternoon.
Diesel is obsessed with tall grass and weeds. He absolutely loves laying in it and playing in it. Can you see him in this picture?
Look right slap, dab in the middle. Here's a closer view:
He finally poked his head out
Which is just what Dolly was waiting for. She immediately pounced on him
And then she ran around with reckless abandon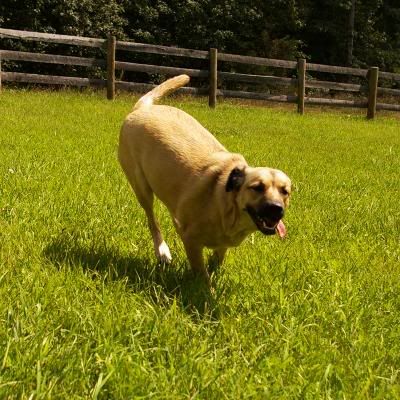 Until she spotted a bug on the driveway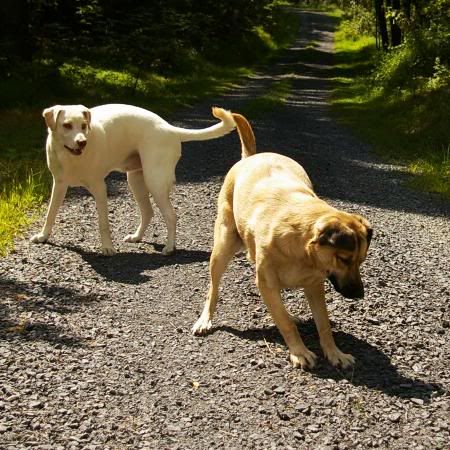 Hey good lookin'
Dang, I never even knew the boy could move this fast!
Lordy, I do love these pups. And my flower. And my new brooders.
I am so dad-gum easy to please.