Today is day 20 for my two broodies setting on eggs. The last time these two broodies hatched out their eggs between day 19 and day 20, so I've been checking on them a lot the past couple of days. And looky what I found a little while ago: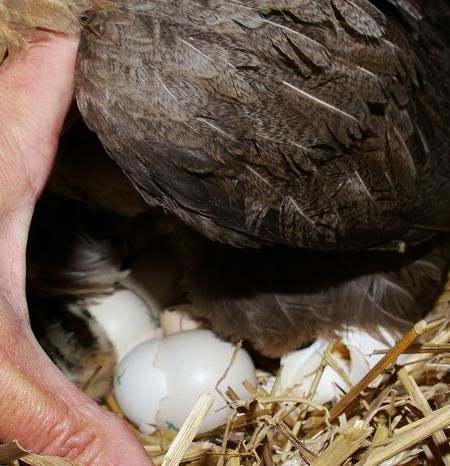 Those are eggs that Broody1 is setting on. And look what she's got:
I think she's actually hatched out six of her nine so far, but I had a hard time counting them and couldn't get them all to come out. I didn't want to mess with the ones underneath her too much for fear they'd trample on the zipping eggs. Cute little buggers, aren't they?
Broody2 has only hatched out one of her four so far. And this is the sweet little face of her first born in this hatch:
Could you not kiss it's little beak right slap off? Lordy. I just love baby chicks. If all of these eggs hatch, we'll have 13 new little baby chicks running around. And I've got two more broodies due to hatch out four eggs in about two and a half weeks.
My parents get here tomorrow and I'm really happy my mom will arrive in time to see these babies still being babies. And she'll get to kiss them – every clucking one of them.
Bee Free,
Penny