While tucking the chickens in the coop the past two nights, I noticed one of my Golden Penciled Hamburgs in a nest box. I thought she might be starting to get broody, but this morning when I let the chickens out of the coop I found her – dead in a nest box. She was one of my soft shell layers, and I checked her vent just last night. There was dried yolk and egg white on the feathers under her vent, but the vent itself was clear. I was upset that I lost her, and absolutely baffled about what could have caused it. So, next to sticking my finger up chicken butts on a routine basis, I did something I never thought I would. I cut her open. Her abdomen was filled with yolk and egg white, but other than that, I saw nothing that would raise a lot of concern. I'm no necropsy expert by any stretch of the imagination, but I've studied the subject a little and was hoping something unusual would catch my attention. It didn't.
You may recall I lost another Hamburg that died quite suddenly last year. I have no idea what happened to her either. It makes me sad to lose a chicken, but I know that sometimes these things happen. I hope this is just a rare, odd, occurrence.
On a lighter note, the pups and I walked down to get the mail today and on the way, I noticed this in one of our cedar trees:
How very odd. When I flipped one of them up, it looked like an alien blob.
A little later, I found the same thing on another cedar.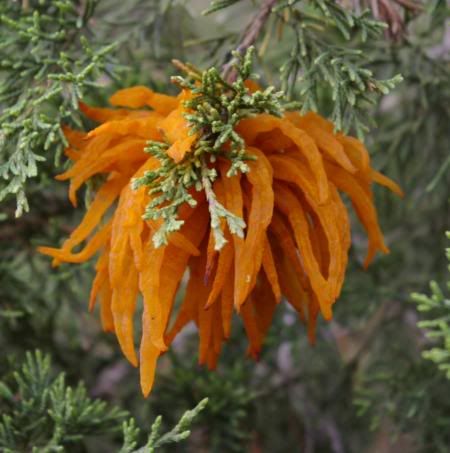 In a weird and scary kind of way, I thought they were actually quite pretty.
And I noticed this slime on the trunk of the trees: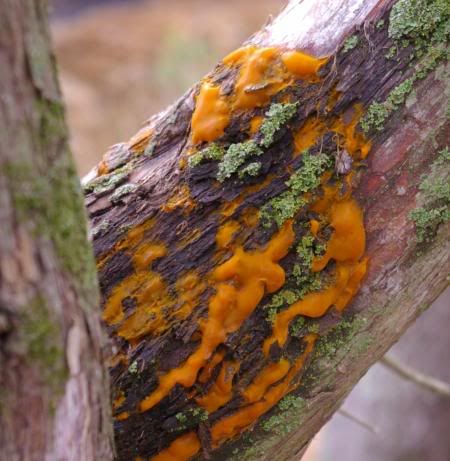 I carefully backed away and ran in the house to google this orange/slimy/spaghetti looking goo. As it turns out, those big orange blobs are Cedar-Apple Rust Galls. And that goo on the trunk? That's Cedar-Quince Rust. These are both a type of fungi. And they are neither one cool to have. Both can eventually kill their host. The Cedar-Apple Rust Gall is especially worrisome. It is a two host fungi. It depends on both the cedar tree and the apple tree. We have many cedar trees, and only two apple trees – which is apparently enough for this fungus to live. In the early nineteen hundreds, the Cedar-Apple Rust fungus was apparently decimating the apple orchards in Virginia. So much so that the Cedar Apple Rust Act of 1914 was passed. This act required any land owner in Virginia that had a cedar infected with the cedar-apple rust fungus, and living within two miles of an apple orchard, to chop the tree down. I am not kidding. It was an official ordinance. As far as I can tell, this ordinance was never repealed and remains in effect today. Not that it pertains to us. We live no where near an apple orchard. But it is rather disturbing that we have trees with this fungus. It's cute and all that, but it's still a fungus. And it's still not cool. I mean we do have two little apple trees that were likely the result of a bird pooping seeds out of it's little butt. And now I learn these orange blobs of gall are a threat to our little apple trees. *sigh*
Mother Nature can be a real buzz kill sometimes. But she happens to rule around here, so I'm trying to figure out a way to live peacefully with her. And I've learned she doesn't negotiate. At all.
Bee Free,
Penny