Diesel and Dolly haven't been allowed outside without being on a leash until today. Today was a big day for them. They have finally learned to come back to us when we call them, so they were finally allowed to run around without being on a leash. And it was the perfect day for it. It snowed! And Diesel and Dolly LOVE snow. But before they were allowed to take off on their own, Bernie had a little chat with them and they promised to mind us. Diesel shook on it.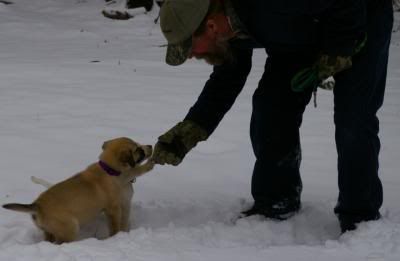 Diesel is so tiny, he has a hard time keeping up with Dolly. At first, she spent time with him and kept him close by.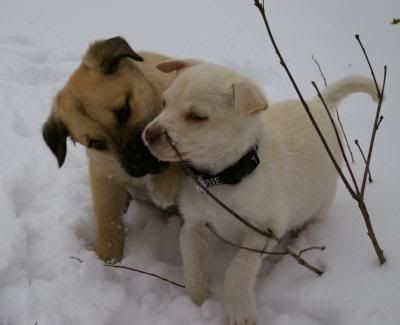 He followed her around for a while, but kept looking over his shoulder to make sure we were following.
Before too long Dolly ran off without Diesel.
I don't think I have one picture of Dolly without snow on her nose.
They played for quite a while, but it was quite evident when they got cold and decided it was time to go inside. Diesel sat in the snow, shivering, and looking up at us. Bernie had to pick him up and cuddle him to make sure he got warm.
And when Dolly had enough she simply hauled tail straight to the house. She even climbed the stairs for the first time ever!
Diesel and Dolly really love the snow, but I'm not sure they'll care for the ice we're supposed to get tonight. I am absolutely positive that Bernie and I won't care for it – especially at midnight when we do the puppy poop run with them. And the poor chickens don't care for any of this weather. They haven't left the coop all day. I took them a few special treats during the day, but even that didn't seem to help their mood. Puppies aren't as moody about the weather as chickens.
Diesel and Dolly ended up getting sick over the weekend. By Sunday night they had pretty bad diarreha and we were a little worried about them. We took them to the vet Monday morning and learned they have a bacterial infection in their intestines. The good news is, the antibiotics the vet gave us for them started working right away. They slept so well last night that we actually had to wake them up to go potty at midnight and again when we got up at 5AM.
These little pups are doing great. I'm sure everyone thinks they have the smartest, sweetest, cutest pups in the world, but we really do. Seriously. You'd think so too, if you met them. They wouldn't let you leave until you agreed. Diesel and Dolly are like that.
Bee Free,
Penny