We've been having an unusually cold November this year. It's been going down to the low 20's and high teens at night for the past few weeks. I found the water in the chicken coop frozen solid many mornings, and last weekend I talked Bernie into helping me insulate the coop. We had to empty the coop completely and put all the nest boxes in the chicken yard for the day. It confused the hens something fierce. A few eventually gave in and layed their eggs in the nest boxes outside – but they were clearly not happy about that. I ended up finding a nest by Bernie's mower under the lean-to in the back yard with seven eggs in it. I was worried that would become a bad habit for them, but once the coop was put back together, they've been faithfully laying in the nest boxes again.
By the way, insulating the coop has worked to keep it at least 15 degrees warmer than it is outside. I know those chickens are happy about that.
I wanted to get a few pictures of the chickens for y'all to see how big they are getting, but it's been raining here all day. I decided to open the front door and snap a few from there. This is what we are greeted with each time we open the front door: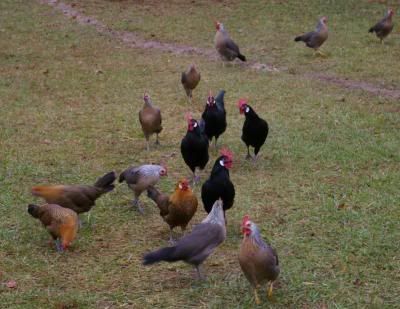 Doesn't that just make you smile? Cute little buggers.
About the time I took that picture the rain really started coming down. Most of the hens headed to the chicken run. Duke and a few of the girls took off to get under Bernie's pickup. And Bobby Lee stayed where he was – hanging out under the eave of the coop:
About half the girls are laying now. We usually get 10 eggs a day.
This is what we've done with a lot of them:
We've also given away a few dozen to friends. And, naturally, we eat eggs every single solitary day. I'm certainly not complaining. It's about time these hens started earning their keep around here.
In the first picture I posted above, you may notice a line of mud in the yard. That's the trench Bernie dug with the Ditch Witch . Then he buried 1 1/4″ PVC conduit to run the electric wire through. By the end of the week I should have electric in my shed and in the coop. Yay! Then he's going to run electric to the garage. Yay again!
A friend of ours gave us a deer last week. We hung it, skinned it, and butchered it last Wednesday. We let it soak in a cooler until this morning, when we processed it. Another friend gave us 1/2 of a deer that he shot on our property Thanksgiving Day. He even processed the meat before giving it to us. No matter how it arrives, you really can't complain about free meat – but it sure was nice to recieve that 1/2 deer ready to go into the freezer.
We've been cold on the homestead, and we've been busy. And we are still loving every minute of it.
Bee Free,
Penny